An Unforgettable Journey: Peddie Students Visit India and Meet the Dalai Lama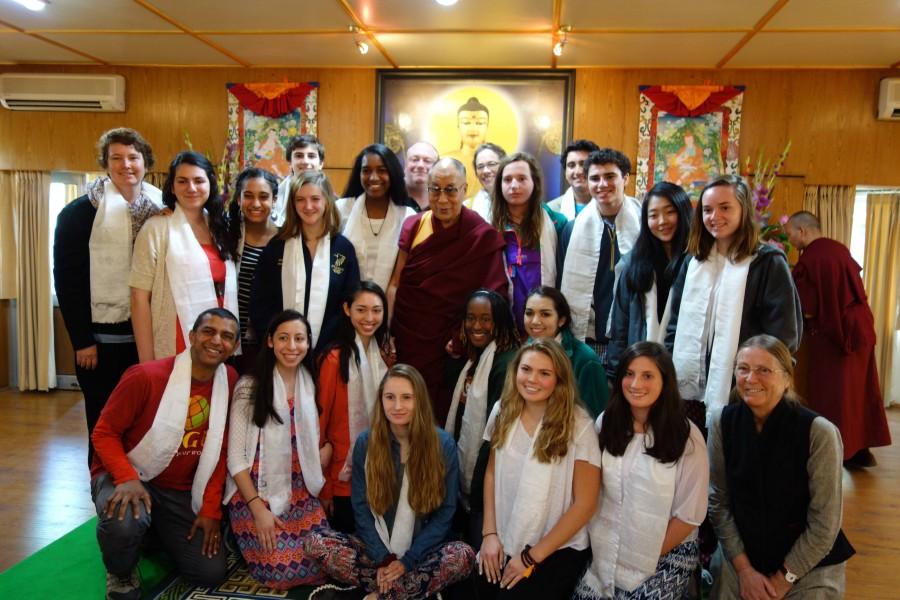 Trevor Russo '17, Staff Writer
April 7, 2015
Seventeen students and three faculty members participated on a trip over Spring Break to India, traveling to cities like Delhi, Agra, and Dharamsala, for two weeks seeing incredible sights and meeting the Dalai Lama along the way.
The trip featured seeing major monuments such as the Taj Mahal in Agra and the Golden Temple in Amritsar, and participating in experiences such as meditation and yoga in Rishikesh.
The journey started with a 15 hour plane ride to the Indira Gandhi International Airport in New Delhi, and from there the adventure began. The group then remained in Delhi for two more nights (stopping in Agra for a day) before venturing onward to Amritsar, Dharamsala, McLeod Ganj, Rishikesh and Haridwar, before returning to Dehli for one final day. The activities would range anywhere from a bus tour to making bread in a Sikh Temple. One such day in particular featured a treacherous mountain hike through the Himalayas, where 10 brave students hiked a foothill covered in deep snow with barely any places to stand. Another day, the group visited a Delhi orphanage.
"My favorite memory from the trip was visiting the Golden Temple at night," Maeve Orlowski-Scherer '17 recounted, "It was the first night that I really felt that we bonded as a group, and just that it was such a spiritual place."
Religion was a major focus on the trip, with the group learning more about the four main religions in India: Hinduism, Islam, Buddhism and Sikhism. The group visited many Hindu temples, attended a discussion by the Swami Dayananda Saraswati; toured multiple mosques; and toured the great Sikh Golden Temple of Amritsar. However, these lucky Peddie community members were all given the gracious honor that very few receive – they met the Dalai Lama, attending a Q&A with him along with students from Emory University.
"Meeting the Dalai Lama was a much more relatable experience than I had imagined…he's the Dalai Lama; so when he started talking to us about the importance of sleep…I was a bit shocked," Holliann Davis '15 remembered. "I had assumed that he would have this out of this world wisdom…but he was as he said, 'a regular human' and I think his answers [to our questions] reflected that."
Ultimately the India trip will be one that many of the trip takers will never forget, as they were given incredible opportunities, saw historic sights, and created lasting bonds with their fellow trip mates.
"What I walked away from India with is confirmation that people are really all the same no matter where you are on the globe. Our curiosity and eagerness to learn about and from the Indian people was mirrored in the people of India's desire to learn about us," math teacher Lindi Davis recounted. "Human nature remains the same regardless of location, language, or cultural beliefs; we all want to learn and make connections with others."