Audubon's Birds Fly into the Gallery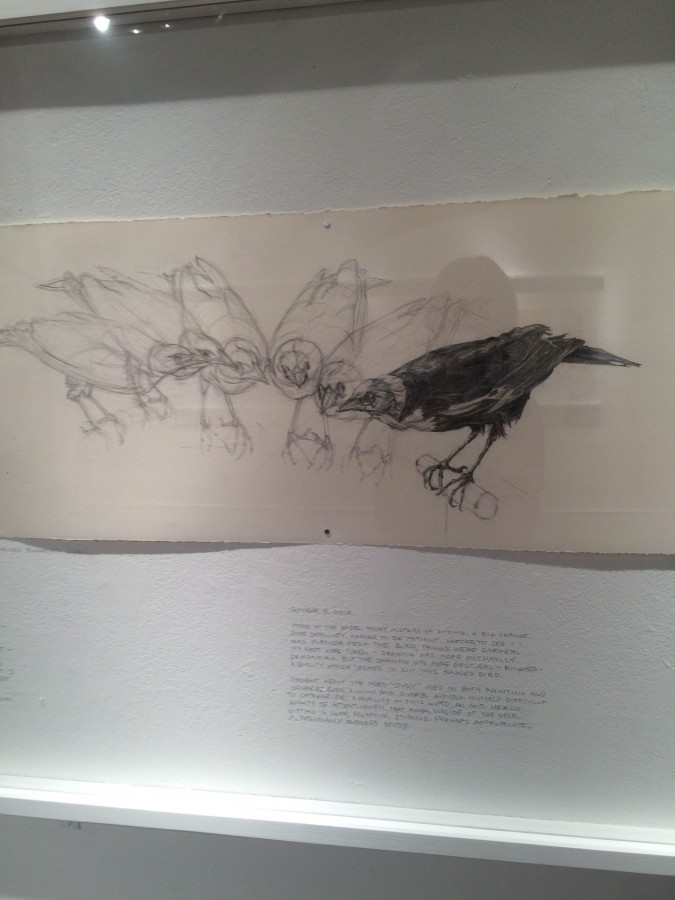 Tanvi Dange '17, A&E editor
April 8, 2015
Peddie welcomed artist Gina Siepel into the Mariboe Gallery on April 1. Her project, Audubon's Birds, includes drawings, text from ornithologist JJ Audubon's original field notes, and a sculpture of Audubon himself that doubles as a bird feeder/observation station. Although a new visiting artist will replace her work next month, this sculpture will remain behind as a gift.
A unique twist on this month's gallery opening was the inclusion of a panel discussion consisting of Siepel, local ornithologist Arian Giudicello, and Peddie's own David Tattoni '16—an avid bird watcher and environmental enthusiast.
"The panel was a great way to show that with art, there's more to talk about than just the piece itself," art teacher Andrew Harrison said. "It's a great way of looking at things through art and science."
Students similarly appreciated the interactive panel.
"The panel was such a great idea!" Sharanya Thondapu '17 said. "It was very interesting and I learned a lot about birds and how the artist used different elements of history in her work. I think there should be a panel at every art gallery because it's a great way to learn about the elements behind the art."
The honors studio art students will be displaying their theses in the gallery next month.