Peddie Alumna Shares Her Research on Waves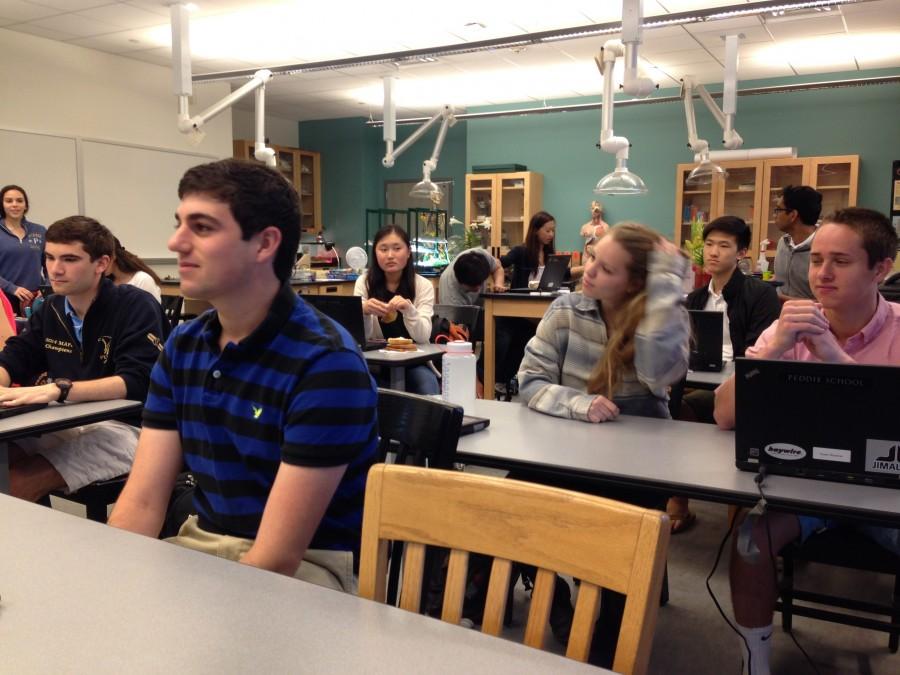 Yvonne Zhou '15, features editor
April 15, 2015
Roxanne Carini '07 arrived on campus on April 6, to talk about her research on coastal waves and current dynamics. Among her audience were juniors enrolled in the EXP program and many other falcons that shared the passion for science. While recalling the path she took after graduating from Peddie, Carini also briefed the students on her recent work, using math and programming to study wave breaking.
Carini attended Peddie School from 2003 to 2007. Besides exploring her academic interest in the natural sciences, she was also a great crew athlete. Carini then went to Yale University to study applied mathematics while also rowing competitively. During her undergraduate study, Carini participated in NASA's Reduced Gravity Student Flight Opportunities Program, in which she researched on the zero gravity zone. After receiving her bachelor's degree, Carini continued her scientific pursuits at the University of Washington. Currently she is pursuing a Ph.D. in Civil and Environmental engineering, with a research concentration on Air-sea Interaction and Remote Sensoring (AIRS).
During the talk, Carini recounted that it was her interest in water that drew her to study the waves.
"I was really impressed by her e nthusiasm in waves! It seems to me that not many people pay attention to this topic, and I appreciate the fact that she dedicates so much time to studying this natural phenomenon," current EXP student Soo Jung Jang '16 said. "I could also relate to her experiences at Peddie, which made the talk a lot more engaging."
This event is one of the talks frequently hosted by Peddie, where alumni are invited to return to the campus and share their stories with students and faculty.
"It was awesome that I got the chance to meet her. [Carini] is crazy smart yet she gave us a feeling that she is still a part of Peddie Community," EXP student Amy Qian '16 said. "She offered us many useful suggestions and made me appreciate the many opportunities Peddie offers us."
To learn more about Carini's research, readers may take a look at one of her recent publications: Estimating Wave Energy Dissipation in the Surf Zone Using Thermal Infrared Imagery.