Honors Studio Art "Draws" to a Close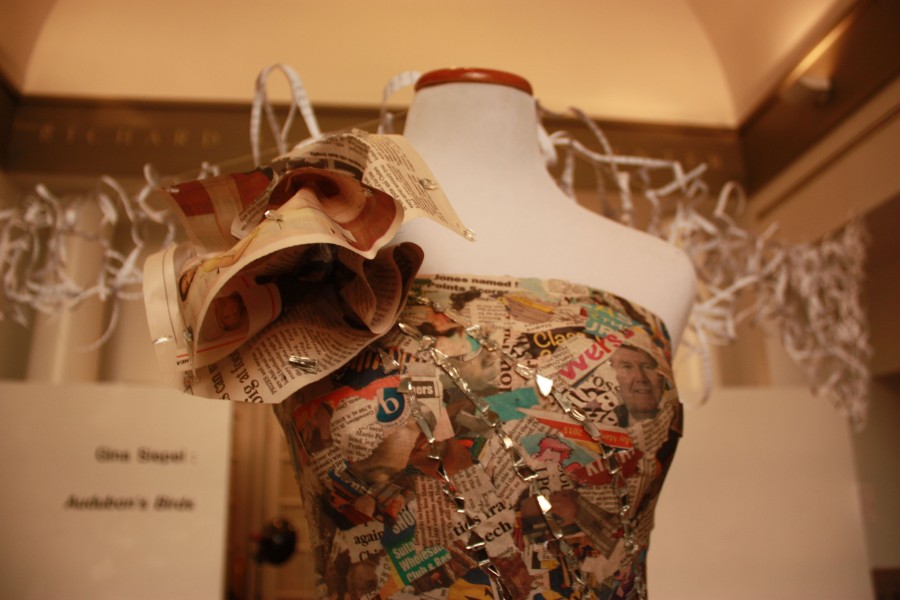 Katie Keyser '16, Staff Writer
May 6, 2015
The Honors Studio Art Show was held on May 1 in the Richard L. Swig Arts Center. The art show included the work of Andrea Ortega '15, Ariel Ashoyketbrod '15, Katie Fenlon '15, Rebecca O'Neil '15, Inayah Sherry '15, Nicole Blekhter '15, Brian Lee '15 and Sophie Kennedy '15.
Honors Studio Art, the highest level art class at Peddie, is offered to students who are experienced in different types of artistic mediums.
"We get students from all disciplines – photographers, sculptors, painters, and filmmakers. But, they also experiment with new ideas, materials, and mediums," Andrew Harrison, arts department teacher, said.
During the fall and winter terms, the students made a series of mini-projects that focused on specific topics. By the end of the winter term, they submitted their thesis proposals and began working on their final projects.
"We spent the first half of the year doing projects based on themes like memory, place, and identity. During the second half of the year, we worked on a thesis project," Harrison said, "Often, the students found that one of the projects that they had done resonated with them and they took that and turned it into a thesis project. Most of what is on display now is a larger, more expanded version of what they did in the fall."
"For the past few weeks, I felt like Swig was my home. I have been working on this piece since the end of February and I spent nearly every off period working on it, in addition to lunch, class periods, and basically any free time I had. I have to say, it was worth it in the end," Kennedy said.
A week before the art show, the students participated in a "lock-in" in order to finish their projects.
"The Saturday before the show every year, the students do art all night. They are in Swig from four in the afternoon to two in the morning," Harrison said, "That is almost ten hours straight of art work. It is a lot of fun, but demanding."
The goal of the Honors Studio Art thesis project is to think of and look at art differently.
"I originally made a model raft at the end of fall term and this sparked my interest in expanding it to my thesis. When I told people I was going to float a raft made out of trash, they kept saying 'good luck' or 'enjoy Peddie Lake water.' I loved that people kept telling me that it could not be done because I wanted to prove all of them wrong, even myself. I wanted people to think I was crazy. I wanted my piece to be provocative," Kennedy said.
"The students are making an argument through art work. Art is not just a pretty picture on a wall. It can be used as a tool to talk about ideas, trigger interesting conversations, and make people ask questions," Harrison said.
Overall, students enjoyed the art show.
"My favorite piece of art was Becky O'Neill's because I thought that its message was very important," Mollie Somers '15 said of O'Neill's project, which was related to domestic issues.
"My favorite art piece was Brian Lee's charcoal drawing," Scout Zabinski '16 said."His variation in coloration and intensities was captivating and the choices of where to draw precise lines versus blurred edges elevated the piece as a whole. It was mysterious, but beautiful none the less, and the large scale of his drawing was interesting because it made the figure life size and made you feel connected to the man in the piece."