Falcons Impress despite Defeat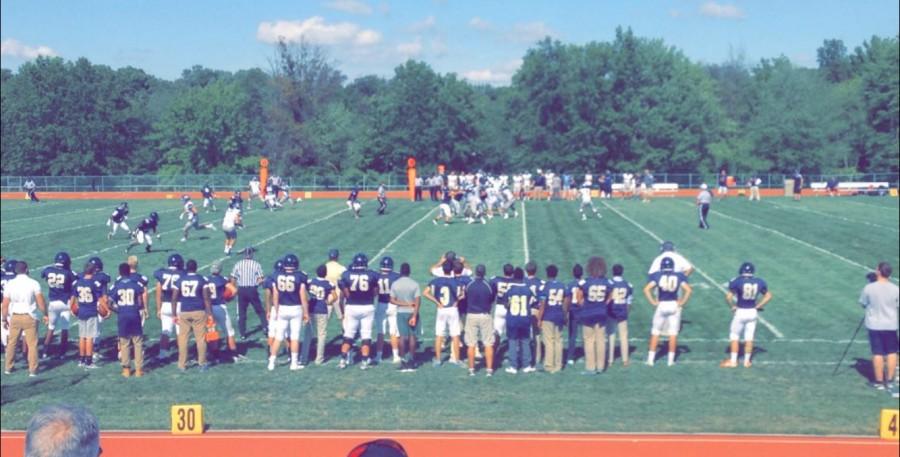 David Loughran'16, Sports Editor
September 23, 2015
On September 19, the Peddie football team squared off with the number one ranked prep school football team in the state of New York, Polytechnic Prep. It was a much-anticipated game due to Poly Prep's high ranking and new head coach Chris Malleo's debut at Peddie. It was a hard fought game that went down to the wire, with the Blue Devils eventually edging the Falcons 14-9.
Poly Prep started out with an early lead, scoring 14 points and shutting Peddie out in the first half. However, Peddie came to life in the second half when new junior running back Keshon Farmer '17 bounced outside and accelerated for a huge 50 yard touchdown run, cutting the lead to 7. After a few back and forth drives that did not materialize into any points, Peddie broke the scoring drought by forcing a safety which brought Peddie within 5. However, an interception with under one minute to go in the fourth quarter sealed a victory for Poly Prep.
After the game, Malleo was optimistic. "You know, I'm excited, I think I have mixed feelings in that I'm disappointed for the guys that the scoreboard didn't turn out in our favor, but I'm also excited about the guys that we have here and the efforts that they gave today. I think with this great group of guys we are going to win a lot of football games."
As for how players thought the team played, Farmer revealed that he was happy and excited with the team's performance.
"I believe we did great, we came out with lots of enthusiasm and we didn't worry about how many offers players on Poly had, how many stars they had, or the name they carried behind them. We just went out there and did what he had to do, and held them down to a five point victory," Farmer said.
When asked how he thought the team could improve, new linemen Danny Dawkins '18 said:
"If we limit our mental mistakes, clean up our game a little bit, and grow together as a team we will be vastly improved. We did the best we could do tonight, but we're gonna practice really hard this week to get better."
Saturday, the Falcons (0-1) travel to Wyoming Seminary and go toe-to-toe with the Blue Knights (0-3). Peddie's next home game is set for October 17 (Parents' Day) against the Lawrenceville School.