Reckless Brings a Touch of Complexity to Entertainment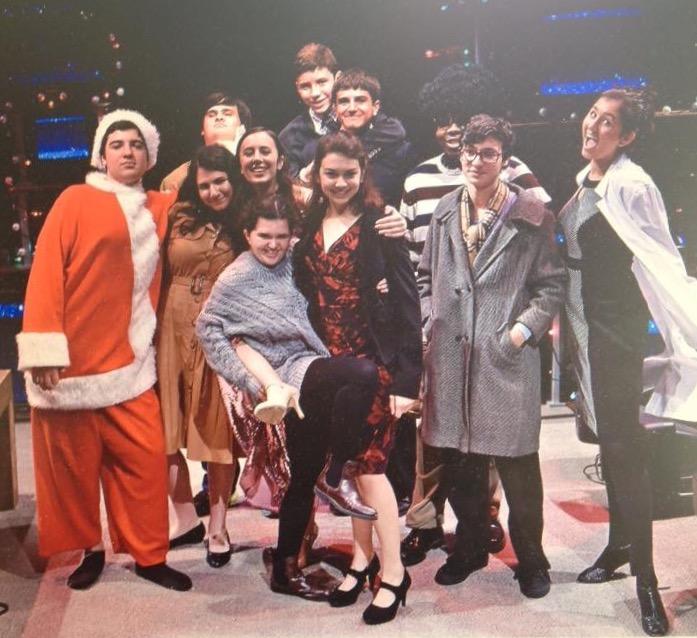 Sue Lee '18, Staff Writer
November 4, 2015
The cast of the fall play performed Craig Lucas's Reckless in the William Mount-Burke Theatre Oct. 28 through Oct. 31. Reckless is a richly ingenious and often alarming dark comedy filled with bizarre characters and events that explore the obscure margins of surrealism.
On Christmas Eve, Rachel (Julianne Wenc '17) is informed by her guilt-wracked husband, Tom (J.R. Haines '17), that he has hired a hitman to kill her and that she must flee for her life at once. As she is running away, she meets Lloyd (Harry Mooney '17) and his deaf, paraplegic girlfriend Pootie (Cassie Follman '16). Rachel winds up living with the couple and begins working at Hands Across the Sea, a charitable organization for the disabled. Eventually, Rachael discovers that Lloyd and Pootie have disturbing secrets of their own. Rachel, deeply conflicted by their unsettling secrets and the life that she has fled from, begins on an episodic adventure involving numerous psychiatrists, eccentric gameshows, and an ill-fated reunion with Tom.
Although the play's complex plot confused many audience members, they enjoyed the overall performance.
"[The play] was good. It was hard to understand what was going on at some parts, but it was creative. It had a sentimental ending, and I liked it," Diana King '18 said.
The cast members appreciated the intricacy and obscurity of the play.
"Reckless is an absolutely crazy play. I think it was a very sophisticated show for a high school to do. Some of the audience was still trying to figure it out days after they saw it, and we were still coming up with speculations weeks into the rehearsal process," Micah Patt '17, who played Sue, said. "What makes it different is how it combined both the dramatic and comedic elements of theater so fluidly."
"I like how the playwright left so much up to the interpretations of the actors, directors and, ultimately, the audience. There was a lot of ambiguity. It was a lot more mature and complex than most of the plays I have worked on in the past," Marissa Bertuccio '16, assistant director, said. "It took a lot more dramaturgical and analytical work for both the cast and the crew to decide how we would put this play out there."