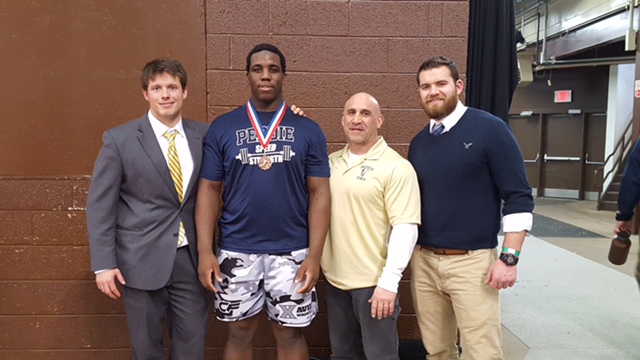 Courtesy of Chidi Broderick
Chidi Broderick '16 placed fifth overall  in the 2016 National Prep Wrestling Championships
According to wrestling boach Chris Mixon, the tournament  featured 136 schools  and was has been hosted at Lehigh University for the last 82 years. "It's a two- day, 32-man bracket at each weight and all wrestlers entered must qualify through their regional qualifying tournament," Mixon said.
Broderick described the atmosphere of the tournament as "astounding" and said that "just being in there and watching some of the matches made you want to get up and do something."
To start off in the round of 32, Broderick defeated his opponent from Pope John Paul by fall, followed by  a win against a wrestler from Hotchkiss.  Unfortunately in the quarterfinals, Broderick was defeated, sending him to  the consolation bracket, where he defeated his first two opponents to get to the semi-finals before losing a 3-2 decision match. In Broderick's last match, the fifth place match, Broderick held onto a  10-5 decision, which sealed the fifth place medal for Broderick. Broderick was extremely pleased with his performance.
"Becoming an all-American wrestler was one of the best feelings in my wrestling high school career!" he said.
Mixon was also pleased with Broderisk's performance.
"It was great working with such a calm and relaxed athlete like Chidi," Mixon said. "Chidi did a phenomenal job of focusing on each match at a time and staying loose. Chidi wrestled well and competed and had a great season, all the coaches are very proud of him."