PJC On the Road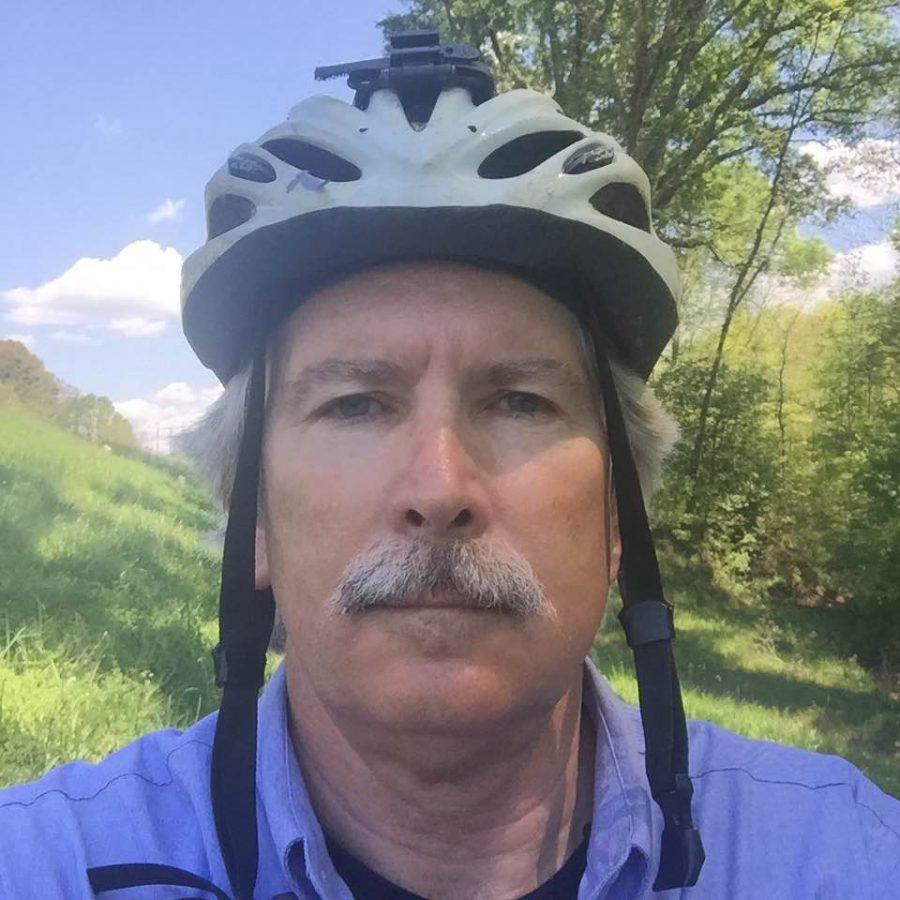 Elle Grant'18, Staff Writer
April 13, 2016
Longtime Peddie English teacher Pat Clements departed for a ride on March 23. Clements' Instagram bio @ontheroadpjc describes his trip as "Solo on a bicycle for 2064 miles, feeling literature and history and music in the land, talking to folks along the way." Clements left after community meeting on Wednesday morning surrounded by a crowd of students with his supplies, a bike and a guitar already armed with the signatures of school Presidents Codi Yhap '16 and Uzo Achebe '16.
When asked about what inspired this life changing trip, Clements said that "Two years ago I was growing tired, sort of running out of gas as a teacher, and Melanie suggested that I design and apply for a sabbatical leave, an academic tradition which is in part used to keep veteran teachers invigorated, fresh, and excited about their work."
By March 25, Clements alerted his Instagram following that he had passed through Charlottesville and had already gotten to the Naval Air Station in Pensacola, Florida. He received the signatures of Marilyn Mandel and retired Peddie teacher John Bates in Charlottesville and of Stephen Olsen, a manager of Blues Angel Music in Pensacola before continuing on to Alabama.
Bad weather in Alabama slowed down the progress of Clements, but he continued on in relatively good spirits. He certainly took in the local culture with a visit to Union Missionary Baptist Church outside of Mobile, Alabama and a glass of sweet tea at Amelia's Restaurant.
Moving through Mississippi and into Louisiana, Clements picked up the signatures of Donnie Michael of Mississippi Music and Michael Romano of Slidell Music Co. in Mississippi and Louisiana respectively.
By April 2, Clements had reached the Mississippi River in Louisiana, but not without a fight. According to his Instagram, it seems that both of Clements achilles tendons are "inflamed and dysfunctional." In order to rest his feet, he decided to take the opportunity to explore Saint Francisville, Louisiana on foot. As of late, Clements is still in Saint Francisville where he gained the signature of Jake Seal on his guitar and granted Instagram followers a snip of Chris Morrison singing and playing the guitar in a classic southern style.
When asked of the guitar that has elicited already many signatures on his journey, Clements said "Why the guitar? It starts conversations; it connects me to the lives of regular folks, black and white, through whose homes I am passing; and it's both a serious symbol of common American culture as well as an absolutely silly thing to be doing," he continued. "Everyone so far loves to sign it though: they think it's kind of quirky-cool."
The rest of Clement's cycling expedition can be seen on his Instagram @ontheroadpjc.