Peddie Cares about Women's Space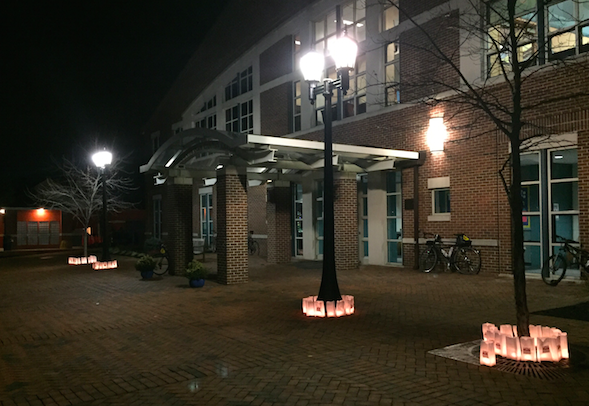 Hang on for a minute...we're trying to find some more stories you might like.
On Monday, December 5, students lit candles along the entrance to the Caspersen Student Center as part of a luminary ceremony to raise awareness for victims of domestic and sexual assault. The lighting also aimed to raise awareness of the services available within the greater Mercer County community.
Students were invited to light candles shortly before family-style dinner on Monday night.
Over 100 luminaries were donated on behalf of Max Kilbourne '20 and family. His mother, Dr. Danielle Coppola, is the vice president of the board of Women's Space, which organized several luminary lightings throughout Mercer County.
Women's Space is a local organization that aims to raise awareness for victims of sexual and domestic abuse, as well as provide numerous sources of support for both present and past victims. Since 1976, the non-profit agency has aimed to protect families and create a support net for those in need. Services include emergency shelter, housing programs, crisis intervention, court advocacy and counseling.
Luminary were also lit in municipalities of Mercer County, the greater Princeton area, and the Lawrenceville School.
The lightings are part of a broader initiative to reform community service into a program of Community and Service, led by Director of External Programs Jim Truslow. Throughout the year, several events and opportunities have been created in order to foster more meaningful and impactful acts of citizenship.