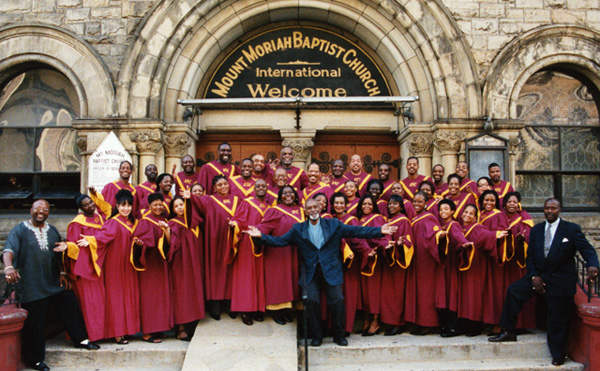 The Peddie community was fortunate to have the opportunity to hear the a capella songs of the Addicts Rehabilitation Centre (ARC) Gospel Choir during the Martin Luther King chapel service on Jan. 15.
The group of voices was extremely well received by the Peddie community, along with the power of their inspirational songs. The ARC Gospel Choir, comprised of roughly 35 former substance abusers that received help from the center, performs nearly 200 times each year. Beyond the greater New York City area, the choir has performed globally at civic and social affairs in venues such as hospitals, churches and jails. They were even featured in the song "Jesus Walks" with acclaimed rapper Kanye West.  Every Wednesday, the Harlem community comes in droves for the group's weekly concert, "The Hour of Power", held at Greater Central Baptist Church.
When asked why he had invited the ARC Gospel Choir to perform at chapel, Peddie chaplain Reverend Johan Johnson mentioned that "in the past two years, they have always done workshops to celebrate Martin Luther King Jr. Day. This year, they were interested in doing something a little bit different".
A Harlem native, Johnson found out about the ARC Gospel Choir by attending one of their performances. He decided that the group would be a fitting addition to Peddie's remembrance of Dr. Martin Luther King Jr. this year.
"I spoke with [English teacher] Mr. Bennett and [Associate Head of School Catherine] Rodrigue. We talked about trying to get a speaker, which we did, and we thought it would be a good way to celebrate Dr. King by having something more than just words," said Johnson. "We wanted to get some inspirational music, something that came out of a Baptist tradition, as Dr. King was a Baptist minister and that [Peddie] was originally a Baptist school founded by a Baptist church."  
Beyond the spiritual and emotional release provided by the music, singing in the choir offers yet another valuable rehab tool: accountability. Staying drug-free is the choir's only requirement. The group is under the watchful direction of 90-year-old James Allen. A former addict himself, Allen started the group 40 years ago to help raise money for treatment programs. The music fills a void, replacing addiction and saving lives in the process, giving substance abusers a second chance in life.   The Peddie community was thankful to learn the stories of the ARC choir, as well as listen to their a capella gospel songs.