Parkland Shooting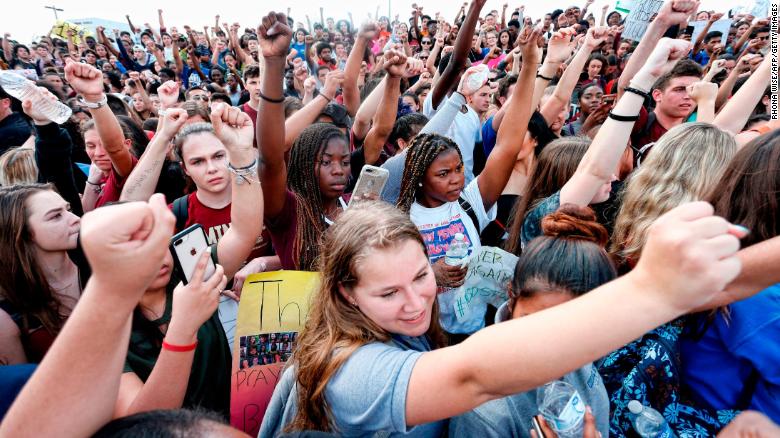 Try to remember when you went to school last Wednesday. What were you wearing? Did you show up late? Did you eat at Peddie's dining hall or head out to Mannino's? Now imagine sitting in your last class. You stare steadily at the clock, waiting for it to be 1:50, even as you dread the intense workout your coach has planned for you after school. Now imagine hearing a fire alarm go off and standing up with the rest of the class.  You hear something popping, almost like firecrackers. No… it's gunshots.
A little over a month ago, this fictional story was a reality for the students of Marjory-Stoneman Douglas High School in Parkland, Florida. A previous student named Nikolas Cruz came to the school in an Uber around dismissal time. He pulled the fire alarm, causing around 3,000 students and faculty to flood into the halls. Cruz fired into the crowd, as well as into five classrooms in building twelve.  Before he was apprehended, Cruz took the lives of seventeen people and injured another seventeen. Fourteen of the victims were students and three were faculty. After much research, the police found that Cruz was mentally unstable as a result of childhood trauma. He had lost both his parents, gone through depression, and was bullied. The rest of the U.S. was devastated because we had just lost seventeen of our own people. Cruz gave a confession and has been charged with seventeen counts of premeditated murder in connection to the shooting.
In times like these, we must speak up. Our voices must be heard for change to occur. The survivors of the attack did not remain silent, either. They spoke out to their local representatives, governors, senators and even the President, and they were not alone. People from all over the U.S. and the world are supporting and stressing the importance of gun control. They even organized a national walkout on March 14th, in which students from schools all over the U.S. walked out of their schools for seventeen minutes. This was done to honor of the seventeen lost in Parkland, as well as to protest gun violence and support gun control.
Unfortunately, Peddie was on spring break during the national walkout date. Even so, I am in total support of a hypothetical walkout at Peddie. What happened in Florida was wrong and should never occur again. American lives were taken, teenage lives were taken, and our own people's lives were taken. It is crucial that we show our support.
It is a wonderful thing that our school has supported students' efforts in attending the March for Our Lives event on Saturday, March 23rd. It shows that Peddie is showing its – and our – support in these turbulent times. We've been through a lot as a school and the support we show for each other is nothing short of exceptional. What occurred in Parkland was horrible, and it wasn't the first time it has happened, but we can make it the last.