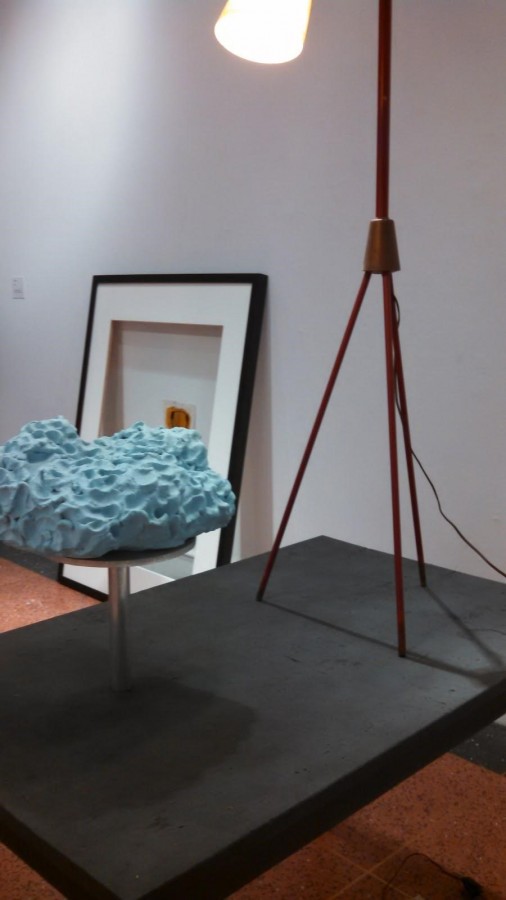 By Julius Sim '16
Staff Writer
Sculptor, artist and educator Patrick Strzelec, a professor at Rutgers Mason Gross School of Arts, exhibited his piece "No-gotiations" at the Mariboe Gallery on Wednesday, Oct. 8.
Before arriving at Mason Gross, Strzelec served as the Rudolph Arnheim Lecturer in Sculpture at Harvard University. In addition to his educational background, Strzelec has had his works displayed in galleries in New York, Rome, Berlin and Amsterdam.
Strzelec's exhibit itself was a collection of six pieces that individually displayed different aspects of negotiation.
"The exhibition focuses on the need for negotiation, especially today in light of the problems that modern society faces," Strzelec said. "Between families, between strangers, between different human beings, in the most general sense the need for negotiation and communication is more tangible than ever."
Following an initial viewing of the gallery, Strzelec gathered a group of students in the gallery for a question and answer session, and explained some of the processes behind the work and his own life experiences. Some of his pieces took the form of easily identifiable objects, such as a seesaw or a two-way conversation, while other pieces depicted more abstract shapes and required deeper critical thinking into the artist's psyche.
One of them was perhaps the exhibition's focal point, Stzelec's Untitled, a piece that depicted a pair of white figurines perched on top of a wooden cabinet, which was bound by a piece of fluorescent orange ribbon. This cabinet was then in turn perched on a top of an antique rug, depicting a Spanish matador coaxing a furious bull.
"The piece took a long period to develop: the initial structure and concept dates from longer than a decade ago, and in creating this piece, I've experimented and tried new elements by digging into a reservoir of ideas," Strzelec said. "The piece of ribbon connects the two figures together, in a sense a forced negotiation that really has no end. The Spanish rug, I found in a flea market and I thought it looked cool with the piece."
Strezlec provided the students with a unique opportunity to see the pieces through the author's view.
"I found the white figures very interesting," said Ashley Ng '16. "After he explained it, I could see and appreciate the negotiation, though the concept behind it was different from my initially response; I couldn't see it at first because the work was very abstract…but his explanation allowed me to think more deeply about it."
Peddie students benefitted from the personal interaction with the artist himself.
"By having him there, with his own work, explaining the history and work behind each piece, the entire exhibition became more vivid and aesthetically pleasing," Chandler King '16 said.
Strzelec similarly enjoyed the experience.
"In all these years of working in classes and showcasing art, I've dealt with a lot of different students with different creative ways of working. In a sense, teaching for me is not only giving back to others but is an experience where I take from students and they take from me, in a back and forth creative environment where we both gain. I guess that's why I enjoy teaching kids so much."