Boys' Soccer Confident in Their Abilities
By: Michael Peters
Staff Writer
The boys' varsity soccer team is not the same team it was on the first day of preseason, and head coach Peter McClellan will be the first one to tell you that. The team has compiled a 6-7-1 record while playing one of the toughest schedules in the state, including a game against St. Benedict's, the preseason number one ranked team in the FAB 50 National Rankings.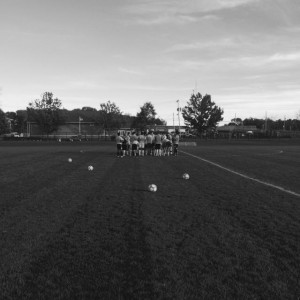 "The team has become one of the most technical teams in the state of New Jersey," McClellan said. "[They are] just beginning to become creative in [their] offensive third."
Danny Hallowell '16, Chase Covello '15, and Isaiah Seetram '15 are all team leaders in goals, while Covello has the team lead in assists. Brandon Valentin '15 and Brendan Mulligan '17 round out the attack with Hallowell. Seetram comes off the bench because McClellan believes it "makes him more dangerous". Sean Dailey '17 and DJ Palmer '17 join Covello at midfield, and Tim Baxter '16, Tim Boyce '15, Reiss Berger '15, and Harrison Wenzel '16 typically start on defense with Jake Leahy '16 in goal.
With such a strong lineup, McClellan feels the team's biggest strength is their ability to move the ball.
"It allows them to attack with numbers and…to be organized defensively when [they] lose the ball," McClellan said.
This strength has been instrumental in the team's success thus far. Despite losses to MAPL rivals Mercersburg and Hill, the team played smart in a league game against Lawrenceville and came away with a 2-0 win, thanks to goals by Covello and Seetram. In the quarter-finals of the NJISAA Prep A State Tournament, Hallowell netted two goals to carry the team to victory.
The team hopes to continue their winning momentum during the NJISAA semi-finals game at the Pennington School this Thursday. With a win, the team would move on to the state championship, most likely facing perennial powerhouse St. Benedicts. Peddie lost 1-2 to Pennington and 0-4 to St. Benedicts earlier in the season, but McClellan is confident in the team's ability to thrive, given a second chance.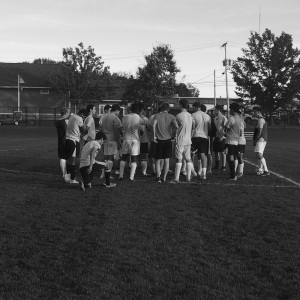 "While the Benedict's team is always good, this team is situated to beat them as [best as] any team I have ever coached," McClellan said.
In addition to McClellan's coaching, the team is also led by captains Covello, Berger, and Boyce. When asked which player has stepped up the most this year, McClellan said that if he had to choose only one, he should acknowledge Reiss Berger since he knows the defensive backs are normally unsung heroes.
"[I] would be remiss not to mention Reiss Berger, who has helped anchor [the] defense," he said.
Overall, the team hopes to succeed in their remaining games, culminating with the all-important Blair Day match on Nov. 8.