Mental Health Problems and "Minding Your Mind"
By: Jesse Zhou '16
Staff Writer
Presenting to a full Efros Auditorium, Jackie Ricciardi, a speaker from Minding Your Mind gave a very personal and informative talk on the subject of mental health and her own struggle with depression and self-harm on Oct. 22.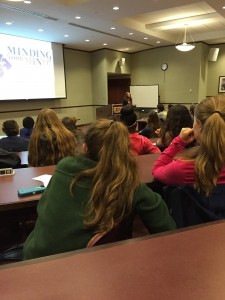 Minding Your Mind is an organization that provides mental health programs for teens and adolescents, organizing speaker events in the Tri-State Area.
Ricciardi, a senior at St. Joseph's University in Philadelphia, spoke about the stigma surrounding mental health issues, and how it is important to remove that stigma in order to better provide help for those struggling with mental health problems.
Ricciardi used examples from her past and her own experiences with self-harm.
"It was interesting because it's actually relevant and understandable," Chris Oh '15 said.
Ricciardi also gave examples of positive coping mechanisms to deal with anxiety or depression, such as exercising, using specific artistic mediums and speaking to a reliable person.
This presentation followed a recent chapel speech by English teacher Kurt Bennett where he talked about a friend's encounter with cyber bullying and the mental health problems that followed.
Peddie has held a strong commitment to its students' mental health. This year, in order to bolster the support system for students, the administration has added a new counselor, Karen Jimenez, to the Student Services to appropriately accommodate all students.