PFS: A Food Evolution
By: Lynna Ye '15
Staff Writer
When he isn't busy making up lunch specials, Chef Oleg Babich had been making the Peddie community laugh all fall term with his engaging emails.
One noticeable new trend is Chef Oleg Babich's diverse lunch specials, along with their breakfast and dinner counterparts. Throughout the week, Babich offers a variety of interesting food not usually served in the dining hall for the community to enjoy, and makes sure to bring it to our attention through his fun and sometimes quirky emails.
For instance, the content of one email sent two weeks ago read:
Good Afternoon,
Yesterday I got a call from Henry Estenes, who owns Sandy Acre Farms by Etra Park.
Henry was all like-" Yo- you want some local produce"?
I was like -"For sure"
Then I was like- "Jimmy go see our friend Henry at Sandy Acre farm".
Jimmy is a nice guy, (you guys know Jimmy from the snack bar).
Jimmy goes to the farm today and Henry has him wait because he does not have any Collard Greens cut. Henry goes to the field and cuts some Greens.
So I was like- " Yo that is so fresh, I mean that was just cut today lets make a special".
So come to Breakfast and try-
Collard Greens, Mushroom and Lobster Hash with Fried Egg
Clearly, Babich has endeavored to create enthusiasm in trying new food. One of his goals is to encourage more fun and variety in the food options for the Peddie community.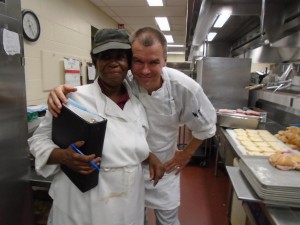 "My goal is to expand culinary palates while having some fun with my quirky emails," Babich said. "We're also hoping to educate people about different kinds of food, seeing that Peddie is an educational institution. I'm really happy to hear that there has been a generally positive reaction to the specials."
While some like the variety that the specials have to offer, June Kang '16 wishes PFS put more effort on improving the quality of the daily fare.
"[PFS] should work harder to improve the regular food options as well, such as the entrée and salad bar, instead of focusing on making the specials tastier, so we can have more good food on a daily basis," Kang said.
While opinions on taste depend on personal preferences, Babich and the rest of PFS are continuing to strive for a higher quality of cuisine at Peddie. Through seasonal flairs on their specials, working on a new webpage with more detailed descriptions of their offerings, and encouraging everyone to continue providing food requests, PFS is working to appease palates across the community.
Chef Oleg brings a message to all: "Send us your suggestions and requests for exam week now, so we can plan for your comfort food to be available when you most need it!"