The Peddie Girls Tip-Off Tournament: A New Basketball Tradition
By: David Loughran '16
Staff Writer
This past weekend, the girls varsity basketball team hosted the inaugural Peddie Girls Tip-Off Tournament, which featured four independent schools playing in a bracket-style format. The teams included the Roland Park Reds from Maryland, the Penn Charter Quakers from Pennsylvania, the Pomfret Griffins from Connecticut, and the hometown Peddie Falcons.
Since Sarah Crider became the head coach in 2011, one of her goals was to have a tip-off tournament for the girls varsity team, just like the annual PSITs for the boys varsity team.
"I really wanted to have a tip-off tournament for the Girls Varsity Team. The PSITs are great for the boys, because the energy that it brings right to the start of the season, the energy for games and what's to come for later in the season is great, and I wanted our girls to have that same opportunity," Crider said.
In the first game, Roland Park beat Penn Charter 60-43, giving the Reds a place in the championship game. In the second game, Peddie defeated Pomfret 58-45, sending the Falcons to the championship game to play Roland Park. The next day, Penn Charter and Pomfret faced-off in the consolation game, with the Griffins coming out on top 56-44. The championship game ended with the Roland Park Reds on top, winning with a score of 53-46.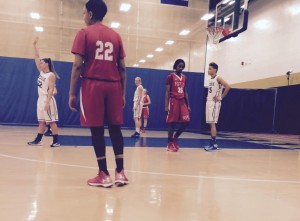 While the loss was a tough pill to swallow, spirits were relatively high among players.
"The crowd really came through on both days, even on Friday night when we weren't sure if they were going to come. But they came and they were loud, and they were there for us, and I know the games would not have had the same intensity and atmosphere in the gym without the student body," Kate Hill '16 said. "So shout out to everyone who came and cheered us on!"
Crider sees great potential in her team, and believes that the tip-off tournament will be a great learning experience for her team.
"We are a fierce team, we play hard, and when we execute and do the little things, we are a force to be reckoned with," Crider said. "We have a very strong team that can hang with anyone, and if we work really hard on doing the little things correctly, and try to bring the intensity of a game into our practices, we can beat anyone that we will play this season."