The Culture Arts Event ROCKS Peddie School
By: Katie Keyser '16
Staff Writer
Alexander Kariotis and the Rock Opera Orchestra performed in the Mount-Burke Theatre on Dec. 15 as the second event in the 2014-2015 Cultural Arts series. The concert consisted of a mixture of classical, operatic and rock music.
"We take opera arias and classical music and infuse it with original rock and roll music," Alexander Kariotis, the lead vocalist, said. "Some of the songs are classical pieces that I've written to sound operatic, some of the songs are all original music and some have choruses from opera arias."
The unique combination of genres was inspired by Kariotis' upbringing.
"I grew up learning a bunch of different kinds of music—mainly classical music and rock and roll. When I was younger, my brother had a couple albums out and I grew up in this rock and roll world with him. When I got older, I started working on my operatic voice because I found that rock music came really easy to me and I wanted to see how I could push myself. Unfortunately, I lost my brother to Lou Gehrig's disease. When he died, I was missing that rock and roll sound in my life. So I put together opera and rock and roll. It's really a combination of my brother, my past, and myself now," Kariotis said.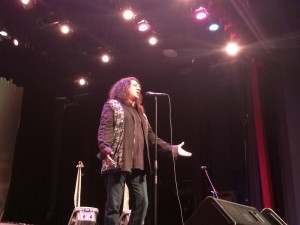 After receiving his undergraduate degree from Mannes School of Music, Kariotis studied with vocal masters Arrigo Pola and Gianni Raimondi in Italy. Kariotis has also studied with Dan Marek, John Wustman and Nico Castel of the Metropolitan Opera. Some of the highlights of Kariotis' career include performing at Avery Fisher Hall in New York City, The Berlin Philharmonic in Berlin, Germany, and Abbey Road Studios in London, England.
"One of my favorite performances was getting to shoot a video at Abbey Road Studios in Studio 2 in London, England, where the Beatles recorded all of their music," Kariotis said.
While Kariotis has been all over the world, The Rock Opera Orchestra has ties to the Peddie campus. Director of Music Alan Michaels is a musician in the Rock Opera Orchestra and played the drums in the concert.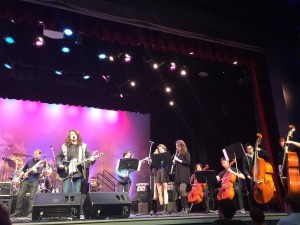 "I have been a member of the Rock Opera Orchestra for a number of years. When it was agreed that the group should play at Peddie, I was psyched. It was fun to have two of my world's meet, my teaching world meeting my performance world," Michaels said.
Multiple student musicians were also able to perform with the band.
"My favorite part was when they brought the Peddie kids on to play with them. I liked hearing how talented our own students are and seeing how well they can hold their own next to a professional band," Alexandra Jones-Twaddell '16 said.
The band began the concert by performing Nessun Dorma, a classic opera aria written by Giacomo Puccino, which they set to a rock beat.
"The opening performance caught me by surprise because the power behind the singer's classical voice, combined with heavy drums and rock elements, was really strong," Julia Ku '16 said. "I could feel the music literally resonating in me."
They concluded by performing Live and Let Die, written by Paul McCartney.
"My favorite song was Live and Let Die because it was one that many people knew and the band sounded amazing performing it," Katherine Benham '16 said.
Overall, students were pleased with the pace and style of the performance.
"The genre of the band, rock opera, immediately made it different from previous arts events. It's so unexpected; the style comes across as grand and soaring, but kind of pensive and sweet at the same time," Emily Fu '15 said.
"It was different than anything I'd ever experienced," Ku said. "Everyone up on stage seemed so enthusiastic about the show that I felt like their energy was passed onto the audience as well."