Falcon Follies: A Relief From Piercing Winter Nights
By: Julius Sim '16
Staff Writer
At the start of every Winter Term at Peddie comes a familiar source of festivities and entertainment. This past Saturday, the school hosted Falcon Follies, the long-standing traditional winter talent show, where students and faculty are encouraged to dance, sing, and impress their fellow students onstage. Twelve different acts, all musical, were performed at the Geiger Reeves theater and provided the audience with a display of various talents.
The tradition of Falcon Follies, deeply rooted in Peddie's culture, is also a throwback to the old times. Director of external programs Jim Truslow helped organize the event this year for the first time, after the departure of long-time Peddie faculty member John Bates.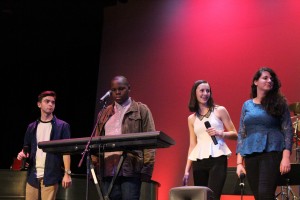 "Follies was a common name for talent shows throughout the country," Truslow said. "The name was based on nonsensical performances, such as the Ziegfeld Follies from beginning of the 20th century, and was meant to convey the laidback nature of these performances".
The term "follies" was applied to shows based on entertaining purposes, rather than a sense of competition, and this year's show lived up to its moniker. Every aspect of the show, from the twelve unique acts to the MC Simona Newman onstage, was designed to maximize the entertainment value of the show.
Highlights of the show included a humorous performance of "The Chanukah Song" by MC Simona Newman '15 and Micah Patt '17; a rock performance of Kansas' "Carry On Wayward Son" by a group led by Alex Deland '17, Micah Patt '17 and Nishad Nalgundwar '17; and a cover of British pop star Sam Smith's "I'm Not the Only One" by Codi Yhap '16 and Alva Cooper '16.
At a time when the weather is getting colder and the nights shorter, the Falcon Follies provided a break in the routine for many students.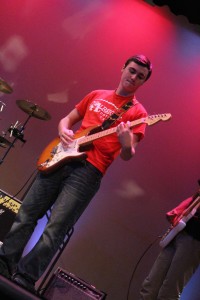 "At a time where a lot of us [students] are starting to become hermits due to cold weather and overwhelming workloads, I felt that Falcon Follies was an entertaining experience, and a break from the everyday pressure of Peddie life," Chandler King '16 said. "I was also surprised by the great talents provided by some our peers."
As much as the Follies provides fresh new entertainment for its audience, it also offers burgeoning artists opportunities to showcase their talents to the entire school, in a light-hearted environment.
"One of our goals behind holding the Follies is to provide a calm, pressure-free environment, similar to that of the Winter Icehouse and Spring Coffeehouse, where students can experiment and try things on stage," Truslow said. "At Peddie, there are plenty of competitions available to students; our goal is to maintain a safe environment where students feel comfortable to express [unique] aspects of themselves in different ways."
Performers enjoyed the show as much as the audience.
"Our motivation to perform revolved around our mutual experiences as classmates during middle school and our shared passion in Korean rap," Sean Kim '15, a performer who sang covers of two Korean songs with Eugene Chang '16 said. "We tried to break free from the notion of language which restricts music while remaining genuine to the music itself. By presenting Korean rap in a way that people could see firsthand at Falcon Follies, we were able to represent ourselves, demonstrate our interest in rap, and share our unique culture with a broader public."