Peddie Girls Set New Record in the Distance Medley
By Jessica Cha '17
Section Editor
The Peddie distance medley relay team broke records at the 44th annual Edwin Lavino Relays, held on Jan. 10. Surpassing the previous time of 13:20.4 set in 1996, Rachel Greaney '16, Lauren Wieder '15, Mollie Somers '15, and Bridgid Greed '16 finished in second place out of thirty teams and set a new school record with a time of 13:15.38.
"Coach Bright and the girls thought they might be able to beat the record this season. They made it their goal and all worked hard to accomplish it," head coach Tim Brennan said.
According to Greed, relay success depends on all members of the team.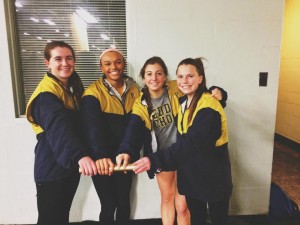 "Running in a relay is the ultimate team effort. Whenever you feel like you can't run any faster, just the pure fact that you are running your leg for three other girls and to make them proud allows you to find that extra gear and really push through," Greed said.
Somers agreed with Greed's sentiments.
"We all trained hard in preparation for race day, and it definitely paid off," Somers said. "I couldn't be more proud of my team."
The Falcons continued to soar as the boys racked in top finishes. Doug Reinisch '18, Justin Blankson-Phipps '15, Juan Best '15 and Colin Mulligan '15 placed sixth in the boys distance medley with a time of 11:22.11. The boys 4×800 meter relay team of Alva Cooper '16, John Bokman '17, Alex Hauschild '15, and Best clinched eleventh.
Reinisch attributes part of his group's sixth-place finish to the more experienced team members.
"The relays were an excellent experience.  Yet the real heroes were the upper classmen who kept my confidence up and supported me throughout the event," he said.
Best explains that team and individual's successes are somewhat linked.
"Lavino's is all about the team, because the only events that are run there are relays. Seeing the other members of the team step up and perform well is exciting, especially when you train and run against the same people. You get to see not only yourself improve, but the others around you as well. The most exciting part is to see what times you and your teammates ran this year and be able to look back to last year and see the massive improvement," Best said.
The team races Thursday, home against West Windsor-Plainsboro.