Students Display their Artistic Talents at the GSA Coffeehouse
By: Trevor Russo '17
Staff Writer
Many students and faculty members gathered at the dining hall to watch their fellow falcons perform at the annually held Gender and Sexuality Alliance (GSA) Coffeehouse on Jan. 24.
Peddie's GSA holds the student talent show each year during winter term. Although the club underwent a name change, as they were formerly known as the Gay Straight Alliance, the fundamental ideas that the club is founded on along with the annual tradition of Coffeehouse still held.
The performances this year ranged from dramatic speeches such as the poem by Lauren Donato '15 on shedding off societal expectations, to side-by-side guitar and singer duets such as one by Uzo Achebe '16 and Cindy George '16. With amusing and intriguing acting on stage, the casual atmosphere provided the audience with a reason to cheer and call out to their friends and peers. Some audience members at the show expressed their regret about not having performed more than once, like former student Nishad Nalgundwar.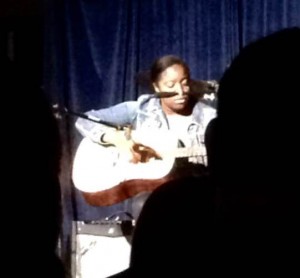 "It was fun!" Nalgundwar commented, "It was kind [of] sad [that] I only did one thing 'cause I wanted to do another."
While Coffeehouse serves as a platform for students to present their talents to the community, it also doubles as a fundraiser for the Trevor Project, an organization dedicated to preventing suicide among young LGBTQ teens. Last year, the GSA raised a total of around $250. This year, a total of $315 was raised at Coffeehouse through the sale of baked goods and t-shirts. According to GSA advisor and English teacher Courtney Jackson, the GSA at Peddie has supported the Trevor Project for a rather long time — long enough that she does not "know how long a time that is."
"I think it's a really important idea that this isn't just a performance, but that it also tries to raise money for people with needs. Doing it for a meaningful cause is always great," performer Taylor Keesling '16 said.
The GSA Coffeehouse event was successful both as a talent show which allowed students to show off their talents and as a fundraiser to help LGBTQ teenagers. As an added bonus for the audience, a small open-microphone event was held after the performance was over. Many went up on the stage and gave a short performance.
"I think I will do Coffeehouse next year," Keesling said.