On the Big Screen: Kristina Pentek '00 Discusses Life as an Entertainment Law Attorney at Senior Lunch
Yvonne Zhou '15
Section Editor
Peddie welcomed Kristina Pentek '00, a lawyer, back to campus on Feb. 9. Pentek met with the student ambassadors and interested seniors during a lunch in Coates-Coleman and discussed her life after Peddie, both in college and beyond.
The event was part of the Senior Lunch program, run by the Alumni and Development Office, which aims to benefit seniors who exhibit interests in certain career routes or fields of study. Throughout the year, the Office invites alumni of various professions to come back to campus and talk to students about their experiences in furthering their education and pursuing their career goals.
Pentek currently works as the senior contract manager at the Associated Press, overseeing contract negotiation. After graduating from Peddie School in 2000, she attended George Washington University and obtained her bachelor degree in history and art history. She then studied law at Southwestern University and explored her career as an entertainment law attorney. Before taking on her position at AP, she worked at Conde Nast, a mass media company in charge of many print and digital media brands, such as Glamour, The New Yorker, and Vanity Fair.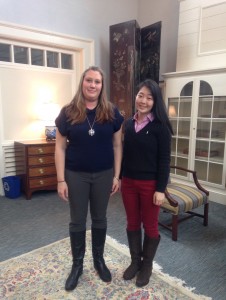 During the meeting, Pentek discussed her education after Peddie and recounted her experiences practicing entertainment law both as an intern and in her career. Pentek explained that while the work was intensive, exposure to so many opportunities allowed her to constantly challenge herself and work with many renowned figures. At times, Pentek brought up anecdotes that were relevant to current news, which engaged the audience.
In the Q&A session following her talk, some students asked questions on studying at law school and working with big names, all of which Pentek answered with detailed elaborations.
Despite the limited time allotted for the event, students found her talk both inspiring and informational.
"I appreciate this opportunity to meet and talk to a lawyer in practice," Ju Chulakadabba '15 said. "Even though I never wanted to become a lawyer, nor do I plan to, I am happy to learn about more about this profession."
The Alumni and Development Office will continue reaching out to seniors with their 100 Days to Graduation celebration on Feb. 12.