Sink or Swim: Peddie Varsity Swim Teams Remain Undefeated
Jessica Cha
February 13, 2015
The Peddie varsity swim teams beat Germantown on Feb. 6 to end their regular season undefeated. The boys won by a 70-point margin, while the girls cut it close with a narrow 89-81 victory.
"I was nervous for the team and the meet, considering that we lost to Germantown last year in Easterns," Charleen Chen '17 said. "[And] the seniors really wanted to win since they have never beat Germantown in their years at Peddie. But due to our team work and our efforts, we won."
The girls' score was 79-77 heading into the last relay, with Peddie in the lead. Nika Blank '16, Emily Schroeder '15, Sariyah Sherry '16 and Laura Morley '15 pushed through in the 400M relay to bring their team to victory with a time of 3:32.24.
The girls credit their success to the team effort exhibited by all members.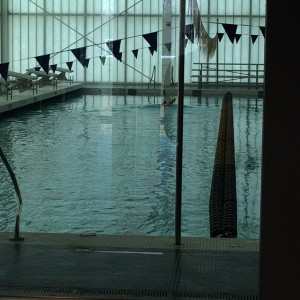 "One of the reasons we won was because it wasn't about an individual," girls' captain Inayah Sherry said. "It was about the team and the girls really came together as one."
Teammate Beth Nicholson '17 agreed.
"It was a fantastic team bonding moment which could easily be considered the most exciting meet in the memories of many of the swimmers on the team, especially for the girls," Nicholson said.
The boys team won 120-50 and the quartet of Sean Han '15, Nathan Stern '18, Tristan Stritzel '15, and Julian Asuaje Solon '15 set a new Germantown record in the 200M free relay with a time of 1:27:09.
The swim team next races at the Easterns competition on Feb. 20.