Honors studio uses different mediums to provoke thought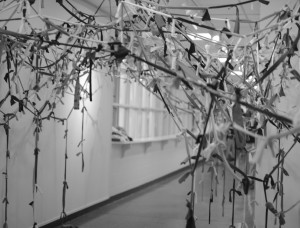 Katie Keyser
Staff Writer
Honors Studio Art students presented their final projects in many different mediums in Swig Arts Center on May 3.
"In Honors Studio Art, students begin to think about the power of art and how it is more than just a pretty picture on the wall," art teacher Andrew Harrison said. "Art is a tool to say something about the world."
The final project called for each student to choose from a topic such as a memory, identity or another theme that they have discussed in class and use it as a prompt to create a project involving their medium of choice.
"It's an amazing transformation that students go through when taking the class," Harrison said. "Students go from thinking one way about what art can do to being really sophisticated makers of art. They come at it from a really rigorous, intellectual angle."
Many of the exhibits challenged the viewers to think outside the box or gave an insight into the artist's life.
"One of my favorite pieces was Hana-May [Eadeh '13]'s project [because] individual facets of her piece told a story or made a statement using dramatically diverse materials," Anthony Chau '14 said. "It was obvious that the project also carried an enormous amount of emotional meaning as well."
"Katherine [Mooney '13]'s work really stood out to me because it was about Alice in Wonderland , but the theme of her project was significantly darker from the usual 'fairytale' interpretation," Vanessa Gao '13 said. "The whole installation and Katherine's interpretation totally caught me by surprise. It was very eye-opening."
Student artists found their inspiration from many different sources, including literature, current events and life experiences.
"My inspiration was a book I read in English class and the discussion that followed," Emily Hogoboom '13 said. "I absolutely let myself and my life experiences affect my artwork. I wouldn't be anywhere without it. Everything I've made has been affected by something I've seen, done, heard or read."
Some artwork, including the piece created by Harrison Rich '13, included sound elements. Rich, who was inspired by the 2003 Columbia Space Shuttle disaster, used stencils to spray paint spaceships on the wall. He used the recording of the final communication between the control and Columbia Space Shuttle to accompany his work.
"I was happy with the way my project turned out, but it's hard to judge because my opinion is not the point of the graffiti," Rich said. "Even if someone disagreed with the message of the piece, if it made someone think about it, then it was successful."
Casey Zheng '13, Ila Krishnamoorthy '13, Jacqueline McGrath '13, Jenny Lee '13, Julianna Ruo '13, Theodore Park '13 and Yeon Soo Joo '13 also presented their artwork in the show.