Boots on Broadway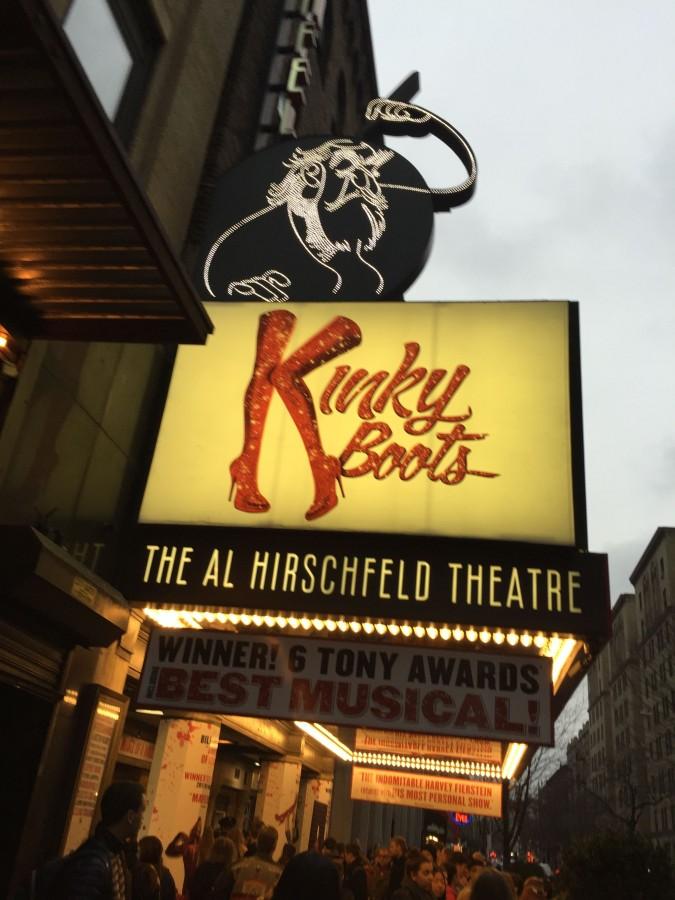 Tanvi Dange '17, A&E editor
April 15, 2015
Many Peddie students went to New York City to see the Broadway musical Kinky Boots at the Al Hirshfeld Theater on April 7. This was the second of the bi-annual Broadway trips that Peddie organizes.
Kinky Boots tells the story of Charlie Price, who inherits a failing shoe factory after his father's death. In order to save the business his father dedicated his entire life to, Charlie teams up with Lola, a dancer and drag queen, to produce a line of high-heeled boots that support the weight of a man. And though the two seem to be polar opposites, they discover they are not that different after all.
The show takes place in Northampton, England. Charlie Price is a fourth-generation "son" in his family business, but he has no interest in shoes and wants to move to England with his fiancée Nicola. But after they barely settle into their new London flat, Charlie learns his father has died and left him with his almost-bankrupt factory. While Charlie is in London, he meets Lola, a drag queen headliner. He notices that Lola wears women shoes and is absolutely uncomfortable because there is no support, so he comes up with the idea to make a pair of high-heeled shoes that will support the weight of a man. Charlie recruits Lola to be his business partner and the two go through many ups and downs, but in the end, the new boots Charlie and Lola create, the "kinky boots," become a big success.
Peddie students were especially pleased with the show.
"I have been to many Broadway shows, but Kinky Boots was by far my favorite show to date!" exclaims Peddie Student Cailin Brown '17. "The plot was exciting the performance was filled with so much passion that it was impossible not to smile and sing along."