Honors Theater Takes Center Stage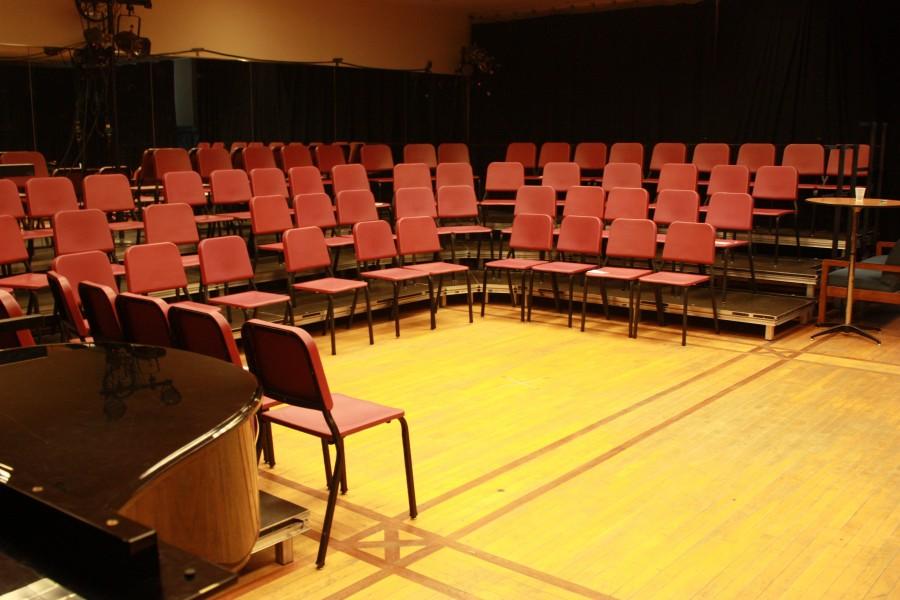 Chet Kazalski '16, Staff Writer
May 6, 2015
The Peddie community enjoyed the Honors Theater One Act Showcase Wednesday. An annual event taking place at the end of every spring, it showcases the hard work and talent of some of Peddie's finest thespians.
The Honors Theater Class is made up of 13 seniors, who spend the full year studying the finer points of theater with theater teacher Elizabeth Sherman. "Honors Theater Ensemble is an important part of our program because it allows students to continue to grow as artists throughout their tenure at Peddie," Sherman said. "The class is a continuation of earlier coursework, but more intensive, and it gives our students more ownership over their work."
The show is a series of one act plays, each produced, directed by, and starring this group of seniors. The class is made up of Josie Anker, Erik Stefanowicz, Inayah Sherry, Granger Whitelaw, Kieran Beach, Jessica Powell, George Tomblin-Morgan, Justin Blankson-Phipps, Qadira Al-Mahi, Malley Chertkov, Simona Newman, Felicity Williams, and Talia Gualtieri. Of these 13 talented performers, nine directed their own plays, with one original piece by Granger Whitelaw and an adaptation by George Tomblin-Morgan.
The nine plays presented had a wide range of genre and subject matter, from Chertkov's play of women's issues and consent, to Powell's analysis of the business world through simple mind games, to Sherry's comedic personification of airport luggage. A plethora of strong performances came about, specifically from Talia Gualtieri in Just One Night, Justin Blankson-Phipps in Julie and the Warlord, and Kieran Beach portraying the classic Actor's Nightmare.
"There was a decent amount of homework assignments throughout the year and of course tons of memorizing" said Erik Stefanowicz, "but it was always fun."
"This is an important part of the theater program because it allows the seniors who came in to Peddie with minimal acting experience showcase their hard work throughout their four years in the program," Powell said.
Justin Blankson Phipps said he has a new-found respect for the theater. "Because of this class, I have decided to pursue acting in my college career, and I wouldn't have chosen to do so otherwise."