Street Beat Redefines Urban Music and Dance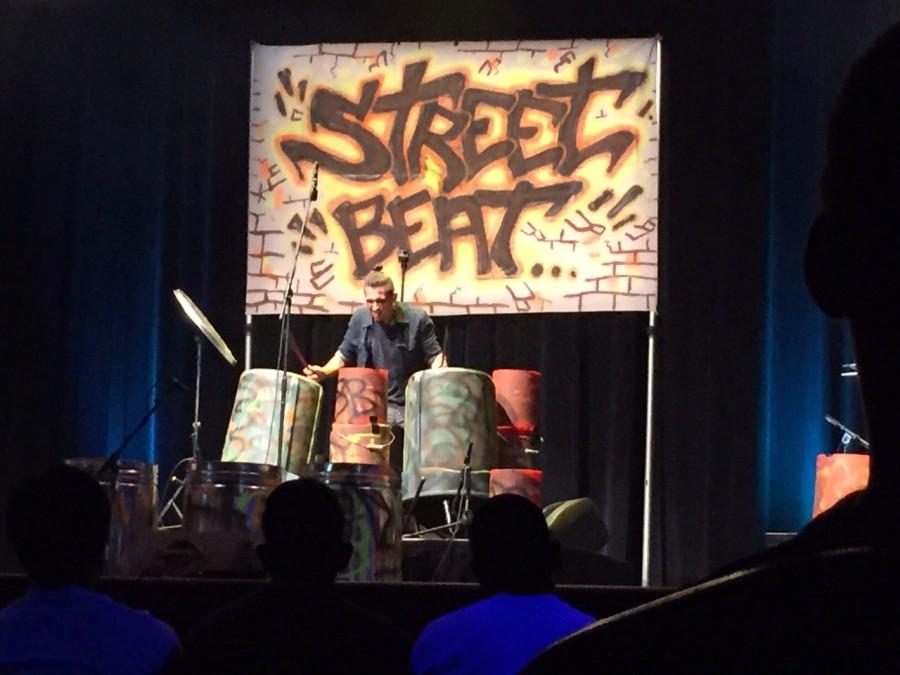 Katie Keyser '16, A&E Editor
September 23, 2015
On Sept 18 in the Mount-Burke Theatre, Street Beat, an urban rhythm and dance group, performed At Peddie's first 2015-2016 Cultural Arts event.
"Street Beat is a merger of drum and dance. We try to keep the primal tradition of expressing ourselves through music and dance alive," Ben Hansen, director of Street Beat, said. "We use a very low-tech approach to convey that everyone can engage in both music and dance because they are essential parts of human behavior, life, and expression."
Street Beat incorporated multiple different styles of music and dance into their show.
"Street Beat included drumming, beat boxing, dancing, and singing in their performance, which always kept the audience engaged because we never knew what was coming next, since they constantly mixed the variety of their performances up," Mia Salas '18 said.
Throughout the show, Street Beat included brief lessons about the different aspects of percussion and dance, teaching students about the origins of pop locking and elements that define percussion instruments.
"There was more of an educational aspect to it than there were to previous cultural arts events," Alexandra Jones-Twaddell '16 said.
In addition to their performance, Street Beat invited students on stage to dance and play drums.
"My favorite part without a doubt was watching my classmates go up on stage and dance.  It reminded me how talented our own school is," Neha Komatreddy '17 said.
"I loved the drum and dance battles at the end, especially when Julius (Sim '16) and Kevin (Coyle '16) went up," Rachel Greaney '16 said.
Overall, students enjoyed the performance as a combination of entertainment and learning.
"Their style of music was easier to relate to than other musical cultural arts events. Pop, rap and other genres that we listen to include similar beats and rhythms," Arnob Dam '16 said. "I enjoyed the crazy rhythms made by the percussion, but I especially liked the intense bass that shook the whole theater."
"I enjoyed the cultural event because it combined music and dance in an artistic and creative way.  Watching the performers integrate the two different art forms into one cohesive and enjoyable show was really cool," Komatreddy '17 said.