Peddie EXPeriences Science Signatures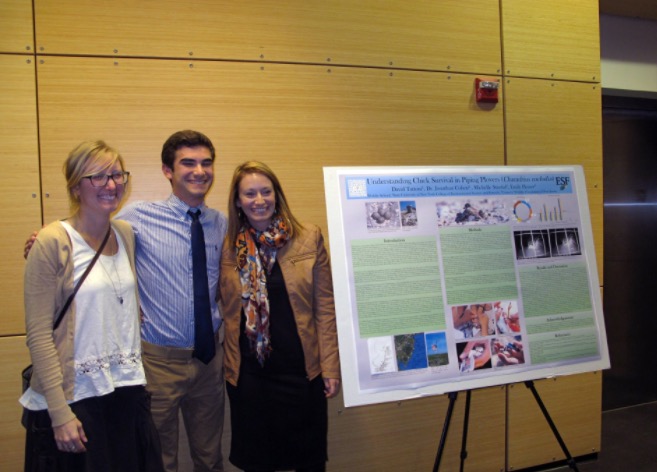 Alan Wang '19, Staff Writer
October 28, 2015
Peddie students, teachers and parents learned about Peddie's EXP program on Oct. 16 during EXP Poster Night in Annenberg Science Center. The focus of the night was on the seniors who participated in the program, and their experiences working in college laboratories. They researched a wide spectrum of topics ranging from the prevention of Alzheimer's to the three-dimensional modeling of the human lung.
The EXP research program, which stands for "Explain, Explore, and Experiment", is directed by science teacher Shani Peretz. Prospective students apply at the end of their sophomore year and spend their junior year researching scientific topics they are interested in as well as applying to laboratories around the globe. Peretz said that it is necessary for the selection process to be competitive.
"We look for both scientific interest and good citizenship since these kids are the only high school students in the lab, and they are representing Peddie," she said.
Students are assigned a principal investigator (PI) who then guides them through the research they complete in the summer. For example, Victor Leo '16 worked with Dr. Michael Goggins at Johns Hopkins University to research ways to detect symptoms of pancreatic cancer.
"One of the main reasons pancreatic cancer is so deadly is because the methods we have today to detect it are inefficient," Leo said. "The survival rate for pancreatic cancer after one year is 29 percent, and after five years, it decreases to only 2 percent."
In addition to their advanced research, EXP students are benefiting people around the world. Jay Ha '16, who worked with Dr. Jae Hong Kim at Yale University, researched the efficacy of different methods used to inactivate Escherichia Coli bacteria.
Ha said that environmental engineering, which his lab focuses on, "provides tangible outcomes, directly benefitting the lives of people in developing countries."
The research done by students is often at the forefront of their field. For instance, Jenny Lee '16 and her PI, Dr. Denise Al Alam of the Children's Hospital of Los Angeles, used 3D modeling to create images of how human lung branches grow. Lee used fetal lung samples that were around 8-16 weeks and followed their development by using a fluorescent microscope. These types of models have only been used seen with mouse lungs previously, but Lee's research allowed others to finally see the maturing of human lungs.
"I had a big role in my lab," Lee said. "I was the one directly working with lung samples and making these images myself."
The EXP program has rewarded students with both experience for the real world and cultivation of scientific interest.
"I think it's a really interesting and important program. It really helps students who are interested in science to have lab experience that they wouldn't get until graduate school," said Natasa Rohacs '18.