The Training Trip Went Swimmingly!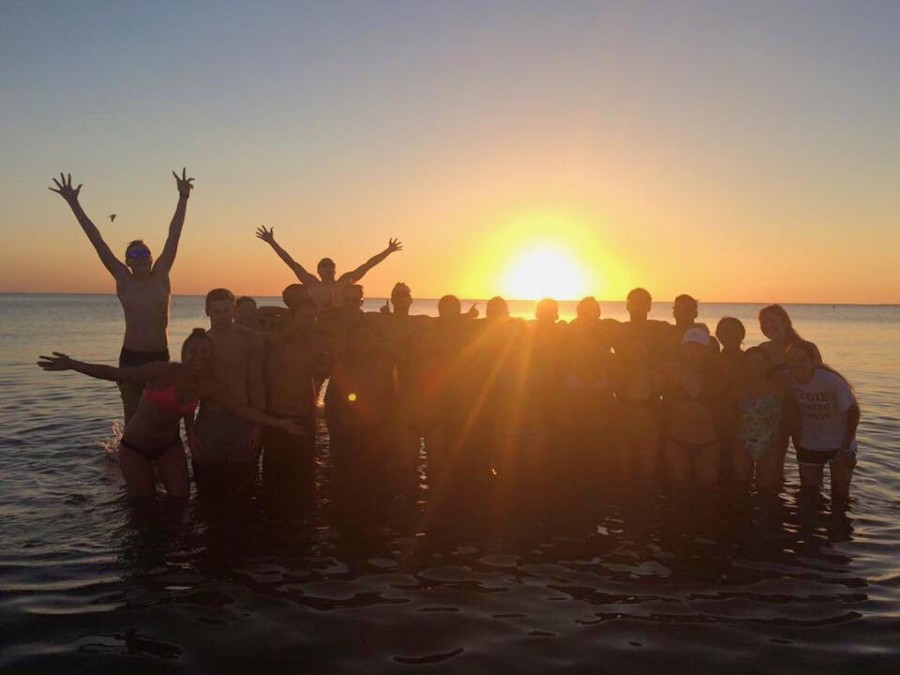 Katie Thomsson '18, Staff Writer
December 9, 2015
The Peddie Varsity Swim team traveled to Fort Myers, Fla. over fall break for their annual training trip with coaches Greg Wriede '95, Kate Nicholson and Alison Schaefer. The team swam twice a day at the Florida Gulf Coast University and had dryland workouts in-between practices.
The trip's main purpose was to prepare the athletes physically and mentally for the upcoming high school swim season.
What made this year's trip unique was that it was held over fall break instead of winter break. This change allowed the swimmers to put hard work into their training and improve techniques before the winter season instead of during it.
During morning practices swimmers swam in a long course, 50-meter pool. They often did circuit sets which combine in-water drills that work on stroke technique as well as out of water exercises that strengthen essential muscles. Nighttime workouts were done in a short course 25 yard pool and consisted of harder anaerobic swims.
"I think the team trained really hard and the trip got us really excited and prepared for the winter season" Sophie Furigay '18 said. "I think [we] also became a lot closer over the long practices and bonding activities throughout the trip. We played beach soccer, mini golf, went to the movies, paddle boarded and had free time to go to the beach."
As for Thanksgiving, the team went out for a holiday lunch and barbequed dinner together at night. Everyone on the trip agreed that one of the things they were most thankful for this year is their amazing swim family.
When the team was not practicing they spent time together at the beach or cooking meals with their roommates. "Living with my teammates for a whole week is one of the best parts of the trip," said Katie Hensler '17. "We wake up together, cook together, and train together. The trip only brings us closer."
As a freshman experiencing the trip for the first time, Lydia Choi '19 concurred with both Furigay and Hensler. "I got to know my teammates a lot better and it was a very special memory for me that I'll never forget," she said.
The coaches and captains have agreed that this training trip was very successful in uniting the team and preparing them for their upcoming season.
The team's next meet is Dec. 15 against Christian Brothers Academy and Trinity Hall.