The Drowsy Chaperone Stuns Students and Faculty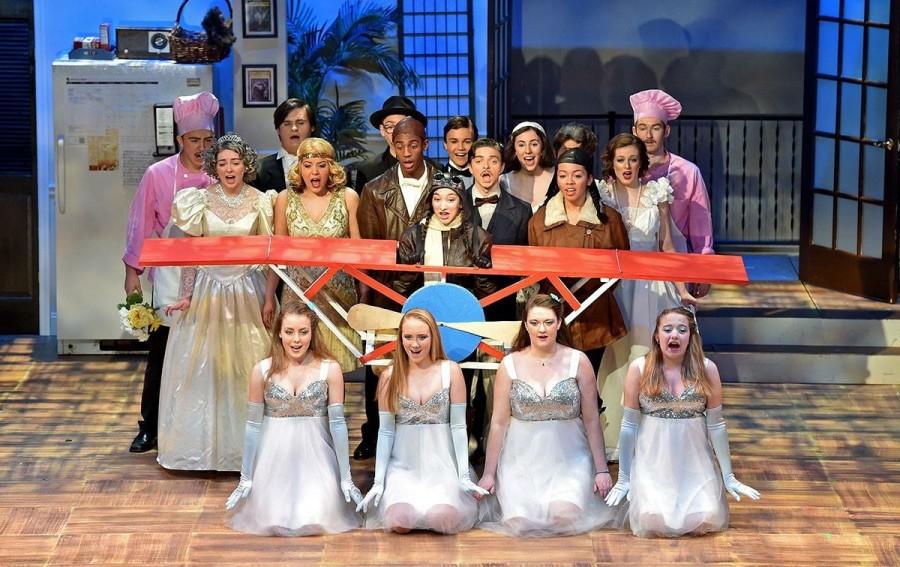 Sue Lee'18, Staff Writer
February 25, 2016
The Drowsy Chaperone was performed by the cast of the winter musical in the William Mount-Burke Theater Feb. 18 through Feb. 20. The Man in Chair, an impassioned fan of the stage musicals of the Jazz Age, narrates his favorite musical, The Drowsy Chaperone, to which he gives a playful spin by adding quirky commentaries about the play and the performers.
As the needle touches the record, the audience is transported to a 1928 Broadway theater. It is the wedding day of showgirl Janet van de Graaff, (Micah Patt '17) and oil tycoon Robert Martin (Daniel Hallowell '16). They couldn't be happier, but best man George (Alex Deland '17) says that a bride and a groom mustn't see each other before the wedding. The Drowsy Chaperone (Alexandra Jones-Twaddell '16) is in charge of the bride while George and Martin get ready for the wedding. Janet is unsure of whether Robert truly loves her or not and, in order to find out, she fakes a French accent and asks him to recall how they first met. After they relive the moment, Robert kisses the "stranger" and a distraught Janet calls the wedding off.
Producer Mr. Feldzeig (Nicholas Gordon '18) is ecstatic about the wedding being called off  because it means he gets to keep Janet, his leading lady and best meal ticket, in showbiz. However, after hearing the Drowsy Chaperone's advice, Janet calls for the wedding once again. Kitty (Brooke Dennison '18), the new lead of Feldzeig's production, and Feldzeig, as well as Mrs. Tottendale (Marissa Bertuccio '16) and her Underling (J.R. Haines '17) have their own side stories, leading to the rejoicing of multiple weddings. After George forgets to find a minister, Trix the Aviatrix (Giulia Marolda '18) comes in to save the day and officiates the wedding.
The cast had a great time putting the show together.
"I was super excited to be a part of the production because I love theater and it was a no brainer. Janet was an incredibly challenging role, for so many reasons. It was my first lead in my Peddie career, and my first time doing something with such fierce belting. Also, even though I have danced before, I'm not a super experienced dancer, so it was difficult to learn some of the tricks. It was by far the best experience onstage I've ever had," Patt '17 said.
Although The Drowsy Chaperone was filled with humor, many of the jokes were also multi-faceted cultural critiques.
"One of the beauties of The Drowsy Chaperone is that it is geared towards a ubiquitous audience. Theatergoers possessing political perspective, or a strong sense of cultural awareness, appreciate the satirical nature of the show. I thought that Nicholas Massenburg-Abraham, playing the man in the chair, did a stupendous job of centering the show. He managed to be brilliantly funny and seriously committed to pointing out the absurdity of common beliefs of humanity," Alan Michaels, director of music and pit band advisor, said. "Ms. Sherman is to be commended for her treatment of this play. I say 'play' because she crafted the show in a way that presented itself as a multi-layered story and commentary."