The Magic of Broadway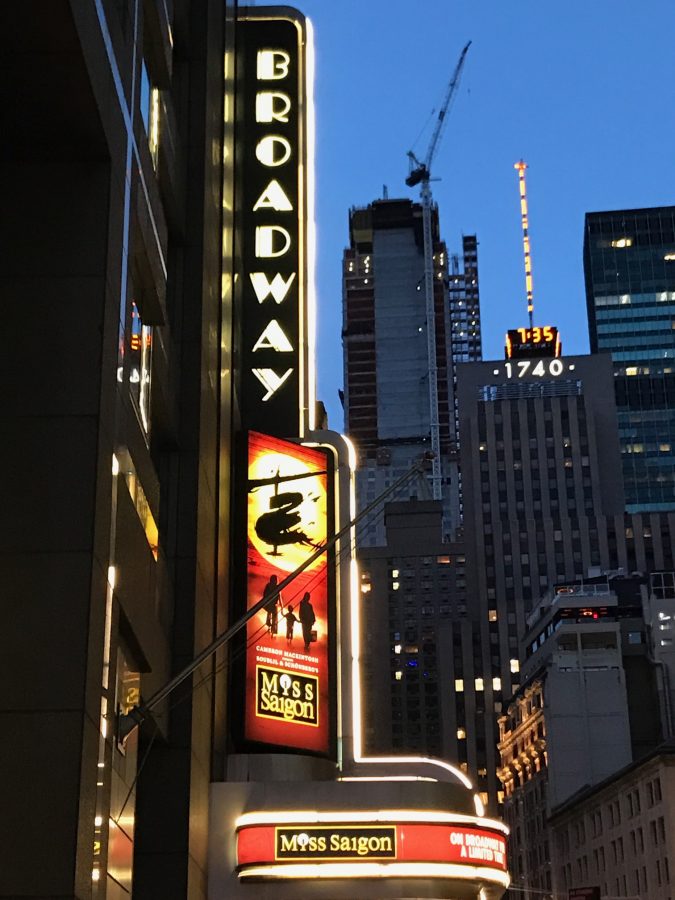 Uma Mani'20, Staff Writer
April 9, 2017
Thirteen million – that's the number of people from around the world who see a Broadway show each year.  The 41 professional theaters that line Broadway in Midtown Manhattan are one of the largest tourist attractions in New York City.  With hundreds of thousands of sold-out performances a year, these shows in the theater district bring in more than 1.3 billion dollars in revenue each year.  Musicals make up a large portion of these shows with some of the largest hits being the Phantom of the Opera – which is also the longest running musical in Broadway history–  Aladdin, Hamilton, and Wicked.  Each year, the largest hits on Broadway are awarded Tony Awards and occasionally even turned into movies, but despite the fact that Broadway performances are live, they've mastered realism through state of the art special effects.  The incredible depth and attention to detail of each of the performances has made "Broadway" a universally recognized name that evokes unforgettable memories.
Being as popular as they are, Broadway shows aren't cheap which is why the students of Peddie have been incredibly fortunate to be given the opportunity to watch two immensely popular Broadway shows– The School of Rock and Miss Saigon – for free.  The School of Rock is a 2003 musical comedy that brought in a 96 million dollar profit.  The popular show follows the story of unemployed idealist Dewey Finn who masquerades as a substitute teacher at a prestigious prep school.  After seeing musical talent in his students, he forms a band of fourth graders to compete in the Battle of the Bands to fulfill a childhood dream and pay off his rent.  The popular songs and catchy plot were such a hit with audiences that a television adaptation of the show premiered last March.  Miss Saigon, the second musical, tells the tragic tale of a young woman during the Vietnam War orphaned and left to fend for herself, and then abandoned by her lover, an American soldier.  The heart-wrenching play was first performed in London and after over 4,000 performances, made its way to the Broadway stage.  Miss Saigon set a world record for opening-day ticket sales and continued to be such a popular show that it was revived in 2014 and now graces the stage of Broadway once again.
Thanks to the hard work and commitment of the drama club and the planners of SNA's, our students were exposed to some of the most incredible pieces of theater in the world and created memories that will stay with them for years to come.