Should Family Style Still Exist?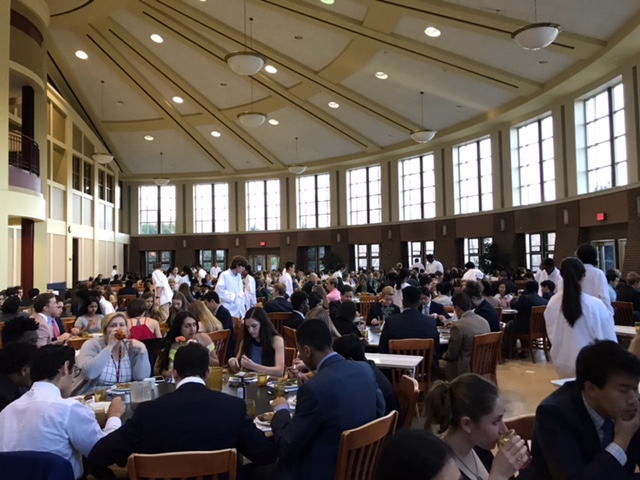 Jack Null '18, Section editor
April 24, 2017
Family style dinners have been a long withstanding tradition at Peddie, but there have been less and less weekly dinners recently. For the 2016-17 school year, the administration decided to cut the amount of family style dinners occurring, reducing it from every Monday and Thursday evening to only Monday evenings.
In the fall term, there were eight family style dinners, but come spring term, there are only four.
Peddie prides itself on fostering a community that shows excellent student citizenship, but in order to keep that school unity, it should embrace family style dinners and consistently strive to provide at least one a week. Even though students may think otherwise, part of the pride and connection every Peddie student feels towards other students and the school as a whole is achieved through a means of family style dinners.
Students learn to take interest in the lives of others they may not know by the conversation that these dinners stimulate, despite the allotted time slot of only 45 minutes. These conversations may range from a basic conversation of each other's lives to a light political discussion. Further, family style dinners are one of three main community gatherings at Peddie, with the other two being chapel and community meeting; neither of these allow for conversations with one another, which increases the importance of family style.
One of the core values at Peddie is balance, which is reflected in the form of academic, athletic, artistic, and social pursuits. If the number of family styles continues to be reduced, then students will miss out on the opportunity to branch out. They will miss the chance to become more involved citizens of the school, changing the balance in their lives at Peddie for the worse.
During the school year, Headmaster Peter Quinn has urged students multiple times to welcome the opportunity to debate and respectfully disagree with one another; this tends to occur in classrooms or dormitories. However, classes are mostly filled with students in the same grades, which means students become familiar with the views of their peers as the school year progresses. Students in dormitories, too, also become familiar with one another's views over time and the discussion may die down. This is where family style comes into play.
Family style dinner seating is randomly assigned with different grade levels, races, genders, and faculty members, and the seating assignment changes every few weeks. As such, this opportunity allows students to engage with people they might not otherwise know from the classroom or the dorm. If the conversation shifts to a political or controversial topic, students will be able to hear different perspectives from people who come from a varied array of backgrounds. This is extremely valuable, as Peddie contains a diverse community that represents 38 foreign countries and 25 states.
An integral part of every great high school experience is the people an individual meets there. By having a fixed structure that allows students to sit with and get to know new people, students gain opportunities to forge friendships and bond with one another.
As a result, even though many students complain about how they have to sit through yet another family style dinner, they should truly be grateful. Students have an opportunity to enrich their high school experiences by being able to converse and socialize with a diverse group of talented people who hold a wide variety of different views and opinions. Such is a rare thing to find anywhere in life.