Fall Term Art Exhibit: A Display of Artistic Talents after a Term of Hard Work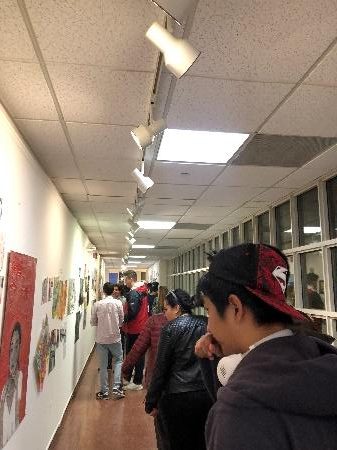 Peddie students in a variety of visual arts classes showcased their work in the Swig Arts Center on Wednesday night. Throughout the building, an array of student-produced work covered the walls. Visual Arts Foundations, Painting, Architecture, Photography, Film and Video, AP Studio Art, and Honors Studio Art classes had work on display. Some work could not go directly on walls, such as an installation by Claudio Middleton's Architecture class, which became a functioning part of the Swig lobby in the form of wooden benches and chairs.
In the Mariboe Art Gallery, which intermittently houses the work of visiting artists, was a display of work by the Honors Studio Art class. When asked his favorite thing about the exhibition, class member Nikhil Dighe '19 said, "I really like seeing so many different people talking about art together. It's always people you wouldn't expect. Under the guise of free food, kids come to the show and end up seeing a lot of pieces they like, which shows them that art isn't as scary as they think. At the end of the day, it's just about getting enjoyment out of putting a part of yourself onto a canvas, wall, or in a sculpture. There's no pressure to create a specific thing." Dighe would like to pursue a career in visual arts, and sees Peddie's art exhibitions as a form of practice that makes him consider how he would display his work if he were a full-time artist. "It gets me thinking about how my pieces can interact with one another and also how they can interact with other people's pieces in a shared space," said Dighe.
While Dighe has seen nearly four years of  art exhibitions at Peddie, Christopher Hussey '22 experienced his first one this week. Hussey's favorite thing about the exhibition was that it gave him a fun activity, "after being in the dining hall and not really having anything to do." When asked if he would like to continue making art after taking his Visual Arts Foundations class, Hussey said, "I would like to continue with the overarching elements of visual art, but the class has shown me which mediums I like and don't like. I discovered that I want to continue with three-dimensional mediums like architecture, instead of painting."
As visitors walked through the arts center, eating the fall-themed desserts provided by the Peddie Parents Association (PPA), many offered positive feedback and congratulations to the artists who had their work on display. There was a level of enthusiasm, with laughter coming from the room where Jonathan Harkel's Film and Video class played their video projects.