FALL in Love with the Fall Play
By: Tanvi Dange
Section Editor
After five years of absence, Elizabeth Sherman, head of the theater department and director of the fall play, decided to use a play written by William Shakespeare as this year's fall play. On Oct. 30, Oct. 31, and Nov. 1, Peddie's actors came together to produce Romeo and Juliet.
Romeo and Juliet is the tragic tale of two lovers torn apart by their families. Set in Verona, the Montague's and the Capulet's are two families who are sworn enemies. Romeo Montague, in search of a Capulet named Rosaline, goes to the Capulet Ball, but instead meets Juliet Capulet, and he instantly falls in love. Later that night, Romeo sneaks into the Capulet's orchard and overhears Juliet confessing her love for him, and with the help of Friar Lawrence, they hope to unite their families and secretly marry. One of Juliet's cousins, Tybalt, is angered that Romeo snuck into a Capulet ball, and he challenges Romeo to a duel. Romeo's cousin Mercutio accepts the duel on Romeo's behalf, but is fatally wounded by Tybalt. Romeo, enraged, picks up where Mercutio left off in the duel and slays Tybalt. As a result of Romeo's actions, he is exiled from Verona. A frightened Juliet runs to the Friar for help, and he gives her a drug that puts her in a death like coma for twenty-four hours. Juliet drinks the potion and her family finds her and believes she's dead. News gets to Romeo, who is unaware that it is a trick. He buys poison from an apothecary, and visits Juliet's crypt. He sees her, lies beside her, and drinks the poison. Juliet wakes up moments later and sees him, dead. Heartbroken, she takes Romeo's dagger and stabs herself, for she doesn't want to live in a world without her one true love.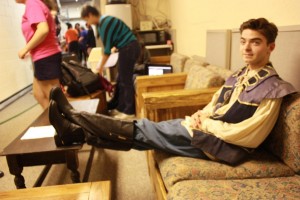 Audience members greatly appreciated the show, like Maggie Yang '17, who saw the play on opening night and the following night.
"The play was amazing! It was so entertaining to watch. With a classic like Romeo and Juliet, it can be taken in so many directions, and the Peddie theater department took it in a great one! Also, the characters had such great chemistry," Yang said.
The play was as enjoyable for the actors as it was for the audience.
"Most of us were friends before the play, so we had a lot of fun hanging out when we weren't on stage," Micah Patt '17 who played Benvolio said.
Juli Wenc '17, who played Juliet, agreed with Patt's statement.
"It was such an amazing experience. The cast and crew were amazing," Wenc said.
One difference between this play and previous plays was that some parts that were meant for boys were given to girls. For example, Patt's character Benvolio, was supposed to be a man. Catherine Kiall '15 was another girl who got a male part.
"As a girl playing the part of the prince, I thought what was most important was to play an authoritative figure," Kiall said.
The theater department will begin the casting process for the winter musical, Hairspray next week.