The Undying Spirit of Blair Week
Lynna Ye '15
Staff Writer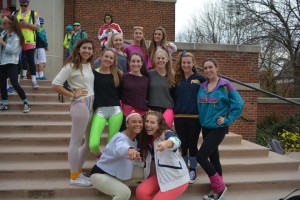 The coveted Potter-Kelley Cup returned to Peddie's campus after a four-year absence, following Peddie's 8-3-2 Blair Day victory this past Saturday. While the participating fall athletes were arguably the largest assets in securing the win, the entire Peddie community contributed raucous sideline spirit to support the teams competing in the 111-year old rivalry.
The week before Blair Day, known to all Peddie folk as Blair Week, is a longstanding tradition to build up anticipation for their upcoming battles. During this week, students dress up to fit common themes and other activities. While it is not documented when Spirit Week first began- whether it was along with the very first Blair Day in 1903 or many years later- and what form it first took, present day Blair Week is held in high regard as one with great festivities.
The layout of the 2014 Spirit Week is as follows:
Monday – Pajama Day
Tuesday – Clash Day
Wednesday – Decades Day (Freshmen: 1950s, Sophomores: 1960s, Juniors: 1970s, Seniors: 1980s)
Thursday – Farmer Day
Friday – Blue and Gold Day
Students and teachers alike are often spotted around in all sorts of dress throughout the week. However, Pajama Day is classified as a favorite amongst all members of the community.
"Pajama Day is probably my favorite because we can be so comfortable," Shivani Gupta '15 said.
It's nice seeing everyone in their pajama pants and slippers because it makes school seem a little less stressful than usual."
Classmate Emily Fu agreed with Gupta's sentiments.
"I like how Pajama Day takes the least amount of effort, but shows the biggest outcome because almost everyone participates. I feel a sense of unity with the whole Peddie community."
While current students consider Blair Week outfits and activities as a large part of their Peddie experience, this was not always the case. To the amusement of his Honors Physics class, science teacher Michael Stewart '83 does not remember much about Spirit Week when he was a student. But in his defense, Stewart countered: "Well, will you all still remember Spirit Week 30, 40 years into the future?"
Indeed, when students look back on our memories of Blair Day and Spirit Week, we will not remember precisely what we or anyone else wore on a certain day, but how we felt during the frenzied Community Meeting Ala Viva, or in the warmth of the bonfire, or when we touched the Cup for the first time.
"I may not remember Spirit Week that well, but I have vivid memories of being at Blair, and feeling really happy when our cross country team beat them," Stewart recalled.
Ala Viva.