Students Speak Out at the 147th Declamation Contest
By: Katie Keyser '16
Staff Writer
The 147th annual Declamation Contest, affectionately referred to as the "Dec", was held on Jan. 8 in the Mount-Burke Theatre. For the second year in a row, the Declamation Contest had a record number of entries.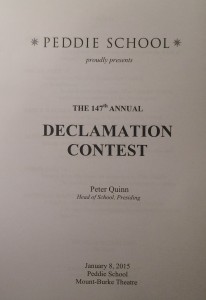 "We began with 80 students. About 55 of those students found a monologue, and about 45 students entered the rehearsal period. By the semifinals, that number came down to 30," Jay Jaski, arts department teacher and director of the Dec, said.
At the semifinals, Headmaster Quinn and faculty members Chris Mixon, Catherine Rodrigue, Liz Sherman, and Cathy Watkins chose 13 out of 30 participants to perform in the finals. The speeches were judged based on projection, interpretation, physicality, the level of difficulty of the piece, and stage presence.
The 13 finalists were Talia Gualtieri '15, George Tomblin-Morgan '15, Justin Blankson-Phipps '15, Catherine Kiall '15, Rebecca DiLuzio '16, Jesse Zhou'16, Jamie Burke '16, Persis Rao '16, Tara Rojas-Scott '16, Alex Jones-Twaddell '16, Micah Patt '17, Emily Wagner '17, and Nick Massenburg-Abraham '17.
The performances ranged from serious dramas to comedies.
"What I love about the Declamation Contest is that it's a hodge-podge. It brings in all different types of pieces and has so much variety to it," Jaski said.
Students who attended the Dec had differing opinions on whose performance they enjoyed the most.
"Talia Gualtieri's [about a girl feeling inadequate compared to her mother's expectations] performance was my favorite. I thought she had great emotion in her monologue," Felicity Williams '15 said.
Persis Rao amused the audience with her depiction of the stuck-up goddess Iris.
"My favorite speech was Persis' because it was hilarious. Her portrayal of a "self-absorbed goddess" was really good," AnneMarie Betz '15 said.
Two of the finalists, Massenburg-Abraham and Zhou, wrote their own speeches for the Dec.
"My favorite part about performing my speech was the fact that I wrote it myself," Massenburg-Abraham said. "I was able to draw out my emotions and feelings much better with past experience and true belief in what I was speaking. It really gave me a sense of satisfaction knowing that people would be hearing my own work."
Zhou echoed Massenburg-Abraham's sentiments.
"Writing my own piece allowed me to put a bit of myself into it, as opposed to picking something else that isn't in line with me as a person," Zhou said.
The judges awarded the students with the four best performances. Kiall won third place with an excerpt from Rosencrantz and Guildenstern Are Dead, by Tom Stoppard. Rao captured second place with her excerpt from The Birds. DiLuzio claimed first-place with an excerpt from The Goat, or Who is Sylvia, by Edward Albee. Zhou was awarded an honorable mention for his performance of his original piece, titled This.
Participants are already looking forward to next year's Declamation Contest.
"I would definitely do the Declamation Contest again because acting is my passion and the Declamation Contest allowed me to freely pursue that passion for the first time," DiLuzio said. "Because I have other activities that interfere with productions most of the time, the Declamation Contest finally gave me a chance to do what I love more than anything."