Peddie Faces Hun in Preparation for Blair Day
By: Janine Karo
Section Editor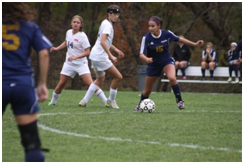 The Falcons conquered Hun this past Saturday, clinching a MAPL championship in girls varsity soccer for the second straight year.
The team broke a scoreless draw in the last two minutes of regulation with a goal from Kayla Roca '14.
In the 78th minute, a free kick from senior Katie Kichula resulted in frenzy around the goal. Larissa Nash '14 headed a rebound off the goal post, and Kayla Roca '14 tipped it in for the game-winner.
 This victory came two days after a state semi-final upset, in which Hun scored off a corner kick in the 12th minute to win the game 1-0. While the girls will not compete for the state title, because the team is the only team to go undefeated in the MAPL league, they keep the MAPL league title for another year with an impressive 2013 4-0 record.
 Peddie also posted wins in JV boys soccer, varsity field hockey, and varsity football.
JV boys soccer proved quick-footed over the Red Raiders, notching six goals. Max Faulkner '16 kept a clean sheet in goal, finalizing the score at 6-0.
Peddie varsity football picked up their fourth MAPL win after blocking Hun's two point conversion.  Ending the game 21-20, the team continues their five-game winning streak as they head into their final matchup against seasonal rival Blair.
Varsity field hockey beat the Raiders for the second time this week—the first win coming on Wednesday for the NJISAA semi-finals. Peddie outscored Hun 4-0; post-graduate Lisi Mueller contributed three and senior Olivia Bundschuh chipped in one. The team stands at an 11-4-2 record, and will look to improve that record with the championship state game against Lawrenceville this Wednesday.
Blair Day festivities kick off this Saturday at 1 P.M.