Peddie Holds the 148th Declamation Contest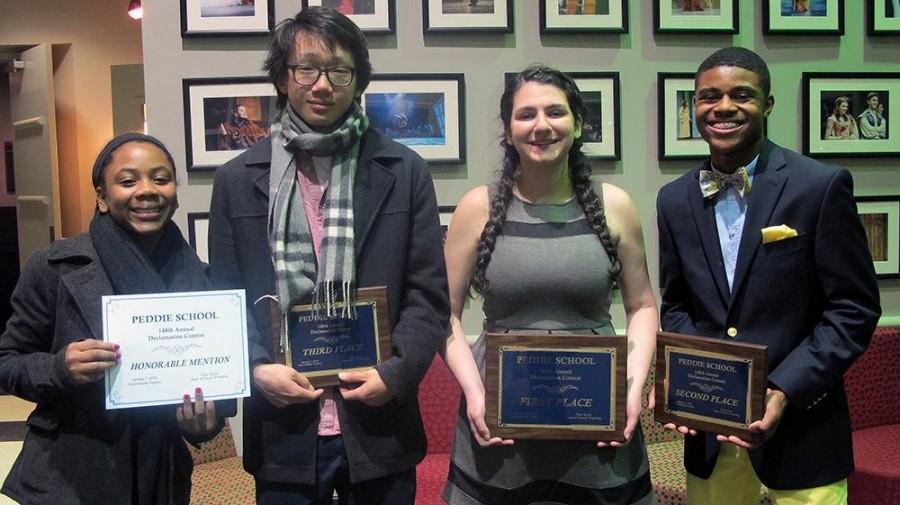 Katie Keyser '16, A&E Section Editor
January 13, 2016
The 148th annual Declamation Contest was held on Jan. 7 in the Mount-Burke Theatre. For the third year in a row, the Declamation Contest had a record number of entries.
In first place was Michaels '17, who performed an excerpt from Messiah, by Martin Sherman. In second place was Whitefield '19, who performed What's In Your Hands, by Adam Clayton Powell, Jr. In third place was Zhou '16, who performed an original piece, In the White Room. Jones '18 received an honorary mention.
"We've been having good success with more and more kids wanting to participate each year. This year, 107 kids signed up," Jay Jaski, arts department teacher and director of the Declamation Contest, said. "Of those, Ms. Sherman and I had to choose 24 to go into the rehearsal period and semi-finals."
In the semi-finals, Headmaster Peter Quinn, English department teacher Chris Mixon, and Assistant Director of Admission Chris Malleo selected 12 out of 24 students to go to the finals.
The finalists were Kevin Coyle '16, Giulia Marolda '18, Chet Kazalski '16, Elizabeth Jones '18, Elizabeth Sullivan '17, Marissa Michaels '17, Luca Morante '18, Natasa Rohacs '18, Delano Whitefield '19, Erin Fago '16, Jesse Zhou '16 and Julianne Wenc '17.
Broadway actor, Christine Long-Hamilton, and performing arts faculty at Princeton Day School, Ann Robideaux, judged the finals round. The speeches were judged based on their projection, diction, physical presence, mastery of the piece, interpretation, level of difficulty of the piece, and overall performance.
Jaski was impressed by the participants' performances at the finals.
"You want the kids to do their best on the final night, to have their closest, most honest portrayal of the character and the material. That's your goal," Jaski said. "Thursday night, kid after kid after kid was doing the best they have ever done on the piece. It's really just doing your best effort when it counts the most and to see them all do that in front of an incredibly supportive and large audience was pretty special."
The participants enjoyed performing and had meaningful experiences.
"Overall, my favorite part about performing had to be standing in front of the audience as the last line came out of my mouth. That feeling that I accomplished my goal, which was to ultimately tell my character's story, was so satisfying," Jones '18 said.
"This experience has made me more comfortable with my acting abilities and where they stand. I have so much more confidence after doing this competition," Marolda '18, who performed an excerpt from Last First Kiss, by Chad Beckim, said.
The audience also enjoyed watching the contest.
"Jesse's piece was my favorite. It was an original piece that from knowing Jesse had elements of his everyday acting. The piece was vulnerable for Jesse. Personally, I was impressed and liked it," Codi Yhap '16.
"My favorite performance was Delano's. I know he is a very gregarious person, but did not expect his performance at all. He was totally engrossed in his character and speech," David Tattoni '16 said.
The performers are looking forward to next year's Declamation Contest.
"I will definitely do Dec again next year. It was an extremely rewarding experience and I was so honored to share the stage with such amazing actors," Michaels '17 said. This experience has taught me so much and I had a lot of fun."