Art Show by Peddie Faculty Member Wows Hightstown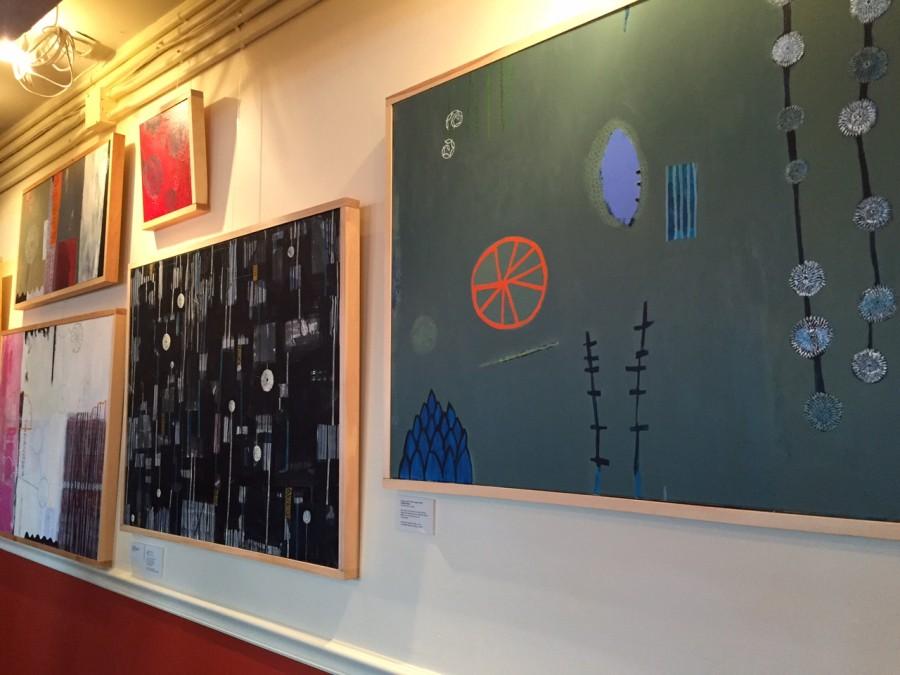 Tanvi Dange'17, Features Editor
September 23, 2015
Cathy Watkins featured her artwork under the title Fever Dream in the gallery at the restaurant 12 Farms in Hightstown. The show began on September 12 and will remain in the restaurant until October 11.
This series of paintings was inspired by the two weeks she spent in India during 2012 and 2015.  Watkins visited New Delhi, Dharamsala, Rishikesh, and Haridwar and studied art and religion with other Peddie students. Watkins said the inspiration behind her work was from many different Indian aspects.
"I was stunned by the saturated color, the piquant spices, the constant barrage of sound and odors, both beautiful and foul, the intricate patterns on textiles, tiled floors, railroad station walls, rickshaws and saris… each vista luscious and joyful one moment, unbearably overwhelming, even tragic, the next," she said.
She continues to evaluate other features of the gallery such as the title.
"I've titled the series Fever Dream, words chosen not in reference to a literal elevation in body temperature, but instead to reference the near hallucinatory quality of these unforgettable journeys," she explained.
Students seem to have nothing but admiration towards Watkins' artwork. Jordan Kelly'16 praiseed Watkins' work.
"It was absolutely incredible to see the variation of abstract pieces from what appeared to be a vivid experience. Using hues and layers and patterned prints, she captures the 'tainted' beauty of India's land and cityscape. Her narration is a riveting, temporal, 'hallucinatory' series – a journey everyone should embark on," Kelly  said.
Peddie artists are determined to meet the expectations of the high bar Watkins has set with her own pieces of art.