We're All in the Mood for a Melody: Peddie Orchestra Visits the Philadelphia Orchestra
Lynna Ye '15
Staff Writer
A group of approximately 50 Peddie musicians went to see the Philadelphia Orchestra perform at the Kimmel Center on Jan. 28. Among the pieces performed that night were Beethoven's Symphony No. 5, Dmitri Shostakovich's Piano Concerto No. 2, and selections from Shostakovich's The Gadfly Suite. These pieces were familiar to the students, as they had performed selections from Beethoven's 5th at the last fall music concert.
Before students sat down for the performance, they were treated to a tour of Verizon Hall's backstage. Besides seeing many of the musicians performing later that night, students also met concertmaster David Kim.
Students then sat down to enjoy the performance. The concert opened with the famous introduction to Beethoven's 5th Symphony. When the piece finished, the Orchestra was given a standing ovation–an honor that followed the next two performances.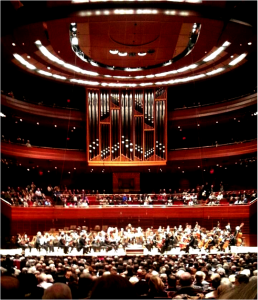 Although Beethoven's work was the more-distinguished of the two composers played that night, students felt that Shostakovich's music was similarly remarkable. Written more than a hundred years after Beethoven's 5th, Shostakovich's music has a modern feel reminiscent of a grand film score.
"I've been on the previous orchestra trips to the New York Philharmonic, but this was a different experience," Catherine Kiall '15 said. "The performance was really great, and I especially loved the second movement of the Shostakovich Piano Concerto – it was really elegant."
Overall, students new and old enjoyed their experience in the city.
"It was a really impressive performance," Anny Shao '18 said. "The music was great, and having dinner with friends at a fine restaurant was really fun as well. I'm looking forward to the next trip!"
The Music Department's winter concert will be held on Tuesday, Feb. 24.