Students Show off their Sweet Talents in Dessert Theater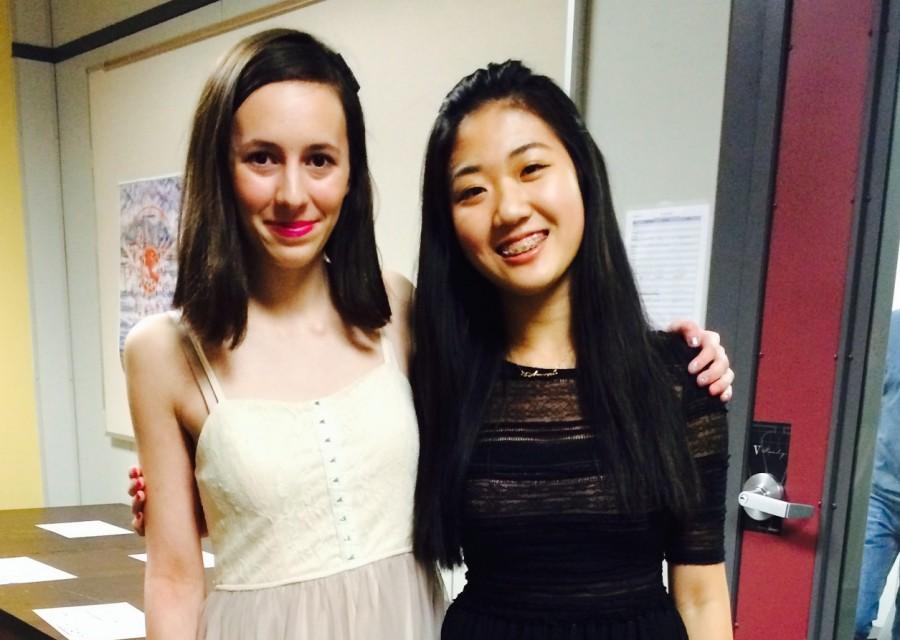 Jessica Cha '17, sports editor
May 2, 2015
Singing and the smell of baked cookies lured students into the chorus room on April 25 for Dessert Theater. The event, held every year, featured Peddie students singing duets from Disney movies, popular artists, and classic Broadway shows.
"The desserts were really delicious and the singing was wonderful! I loved singing in it and I hope to do it again," Nick Gordon '18 said.
"It was a lot of fun performing! I sang "A Whole New World" from Aladdin, a song I already knew, so preparing was very easy. [I did] a lot of singing along to the movie," Emily Fu '15 said.
Although Diana Corliss, the beloved previous director for Dessert Theater and voice teacher, left Peddie at the end of last year, the tradition lived on as Zachary Krieger stepped in to take her place.
"Mrs. Corliss was a great teacher, and I miss her a lot, but Mr. Krieger is also really skilled in teaching voice lessons, and I am really happy that he could join our chorus department this year," Nitya Talreja '17 said.
Despite it being his first year at Peddie, Krieger prepared and taught his students well. He emphasized all the hard work and effort it takes to successfully perform a duet with another singer.
"There is so much that goes into putting on a show like this," Krieger said. "[It is] far beyond simply learning and memorizing the notes on the page. Maintaining the focus required to successfully deliver a song takes so much trust and patience. The notes and rhythms come with diligence and practice, but successful communication between two singers is something that can only be accomplished after learning to make oneself vulnerable enough to trust."
Krieger was pleased with the performances.
"I love seeing my students accomplish their goals as they perform," Krieger said. "I'm so proud of all of the performers and look forward to our continued work together."
The audience was more than supportive and students are already excited for next year's Dessert Theater.
"All of the songs were great this year, and the desserts were delicious. I'm already anticipating next year's performances," Charleen Chen '17 said.