Peddie Students Present their Musical Talent in Fall Concert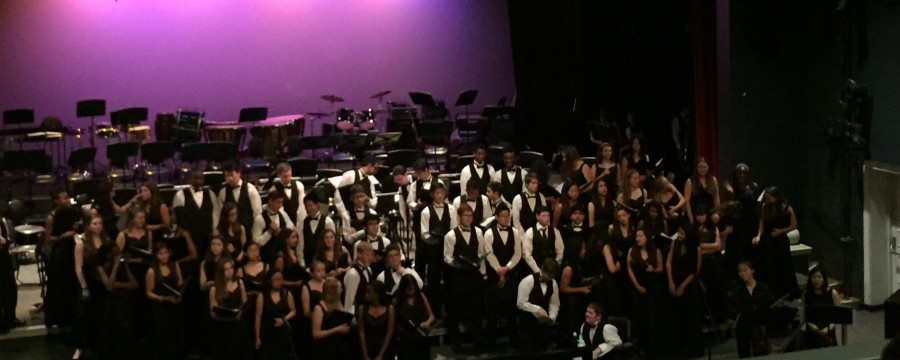 Sue Lee'18, Staff Writer
November 12, 2015
The choral and instrumental ensembles performed the fall concert in the William Mount-Burke Theatre on Nov. 10. These ensembles include Guitar Ensemble, Symphonic Orchestra, Concert Band, Chamber Orchestra, Jazz Band, Percussion Ensemble, Peddie Singers, Acafellas, Full Chorus and Treblemakers.
Peddie offers an opportunity for its musicians every term to contribute to the Peddie arts as individuals and as groups through its music concerts. Marisa Green, director of vocal music, and Alan Michaels, director of instrumental music, cooperate to organize these concerts.
The directors were very pleased with the outcomes of the concert.
"[This concert] was one of our strongest fall concerts. I loved that we started with a full chorus [to begin] with a massive explosion of chorus sound." Green said.
"I was very happy with the outcome of the concert. I always enjoy the fall concert because it gives our newest students a chance to make a contribution to Peddie's performing arts. The fall concert is a good barometer to gauge the quality of our ensembles. Considering that we began rehearsing only two months ago, this was a strong concert for both the vocal and instrumental groups. The concert had a nice pace to it, which kept the audience engaged throughout," Michaels said.
There was a wide variety in the styles and periods of the pieces played in the concert.
"Over the course of four years we try to visit as many time periods, languages and countries of origin as possible. In this concert we had styles ranging from Baroque era classical, American pop from the 70s, contemporary classical, and much more." Green said.
The directors also take the skill levels of musicians into consideration before choosing the songs.
"I spent many hours this past summer reviewing student suggestions of music to play. I used that as my starting point for looking over and listening to band and orchestra arrangements. Going into the fall, I can never be certain as to the level of difficulty that each group will be able to handle. I want the music choices to be enjoyable to play, but at the same time make it challenging for the students. I settled on some music that I thought would be fun to play (Uptown Funk) and other selections (the Gershwin medley) that would be challenging." Michaels said.
Concertmaster Anny Shao '18 was very satisfied with the result of her first concert as a concertmaster.
"It was fabulous. I felt nervous at first, but I got to really enjoy being a leader. My favorite piece was Gershwin by George because I felt like everyone actually came together. It sounded better on stage than how we sounded in the band room." Shao said.
The audience enjoyed the performances.
"The concert was amazing! I think No. 9 of Enigma Variations played by Chamber Orchestra was very nicely played. I felt like the entire audience held their breath at the end of the piece." Alice Xie '17 said.