Whaling Field Trip is a Catch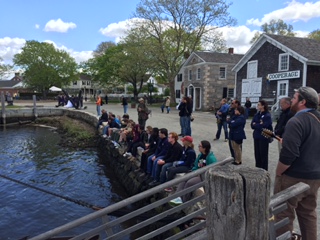 Peddie students were provided with the opportunity to explore what life was like in a whaling town in the 19th century in their much anticipated trip to Mystic, Connecticut on May 16. While this is the first year that students were able to read the novel Moby Dick and take a tour in a whaling town, the class and the trip proved to be a success as students were able to read about whaling, and then experience it for themselves.
"I wanted students to be able to get hands-on experience about the novel, and to see what life was like in a turn-of-the-century whaling town. I think students learn more enthusiastically and deeply when they can actually put physical pieces together, and explore what they're most interested in," Alexandra Kittle, English teacher for the Moby Dick class, said.
"Learning from all of the exhibits, demonstrations, and climbing aboard the last whaling ship left from the era, we were able to travel to a completely different time and circumstance," Bianca Swidler '17 said.
When the bus first arrived in Mystic, students were allowed to explore the decks, museums and colonial buildings that were meant to resemble a typical whaling town.
"My favorite part would have to be the whale museum," Zach Gould '17 said.
Students were guided towards the last surviving whale ship, the Charles Morgan, where they watched crew member reenact what would have happened if whales were spotted on a real voyage. The class was also able to climb aboard a real whaleboat and row on the lake. Students learned the jobs for each of the rowers, and they learned how to maneuver the boat around the water.
While Kittle is not sure whether Peddie will offer the class in the future, the trip was a success and the students' experiences in Mystic will help them finish their final projects, which require students to pick a whaling topic that they are interested in, and then present their research to the rest of the class.
"The students will be presenting research they've done all term, and physical projects they've built or designed to support that. They'll be doing their own hands-on lessons for the next two weeks," Kittle said.