EXPerience: Arts Edition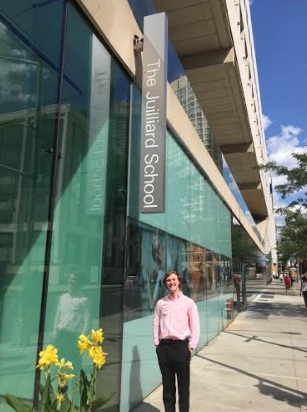 Hang on for a minute...we're trying to find some more stories you might like.
The Signature Experience Program at Peddie provides juniors and seniors opportunities to pursue their interests through in-depth academic curriculum. The Arts Signature Experience fosters students' passion for music, drama or visual arts through their enrollment in elective classes and extracurricular activities. Students are given the opportunity to take advantage of visiting artists by working with them in small groups and one-to-one with students. Performing arts students attend masterclasses where renowned musicians give personal feedback to each student to hone their auditioning skills. Similarly, visual arts students are given both fresh and professional perspective on their artwork in the studio. In their senior year, students culminate a public performance or exhibition of the work they have produced during their career at Peddie.
Students have a variety of ways to approach this program, including participating in courses of study that are offered among the departments at Peddie. The essential part of this program is finding an appropriate summer program with the guidance of a faculty mentor. The purpose of the intensive summer program is to foster a broader perspective and deeper passion for the student's chosen field of art.
Senior Michael Coiro'17 was able to develop his incredible talent in percussion throughout his time at Peddie. His precision in rhythm is one that can only be attained through numerous hours and unwavering persistence. 
Coiro said, "My summer signature experience at Juilliard was amazing. In the two weeks I was there I worked privately with Juilliard faculty and New York Philharmonic members and also collaborated with the other percussionists in chamber music groups. It helped develop my musicianship, and I'm happy that I had the opportunity to go."
Julianne Wenc'17, a senior who has been a devoted actress since her freshmen year, taking on lead roles in numerous plays and musicals such as Romeo and Juliet and Reckless, also participated in the Arts Signature Experience Program at Peddie. During her summer, she spent a month at University of North Carolina School of the Arts taking a variety of acting classes. Afterwards, she worked as an assistant acting teacher for aspiring youth actors and actresses of ages 13 to 18.
"The most meaningful part of this experience was seeing a scene I directed performed. I'm an actor, and having the opportunity to direct gave me a better idea of how theater works. I learned more about directing and stage managing," Wenc said.
Although Peddie students are expected to invest themselves in rigorous academic courses, constantly challenging themselves as intellectual students, students are provided a plethora of ways in which they can cultivate themselves and express themselves outside of the rigid containers of academia and promote their intellectual, social, and moral growth.