Beach Lover Ms. Santana says "Happiness Comes in Waves"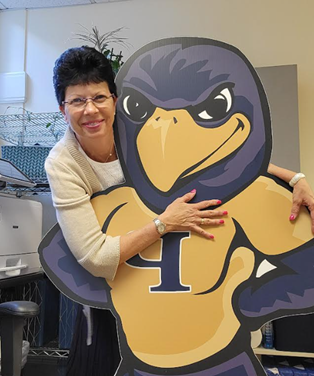 When Peddie students go through their email inboxes every day, they might notice the emails about the packages and mail in the basement of Annenberg Hall. Dawn Santana, the woman behind the curtain, is the one cleaning up all the packages and sending the emails. While part of her job entails managing packages for students, she also has many other duties as part of Building Services, which keeps the campus clean and organized. 
On a typical day, Ms. Santana is busy "making sure everyone on campus is heard, and their requests for Building Services are addressed in a timely, proactive way." She does this by "coordinating a wide variety of facilities work orders," making sure that Peddie life and its campus are running smoothly everywhere. Her role in taking care of Peddie's campus life also involves organizing all the packages that arrive daily, and she particularly enjoys "taking time to visit with the Peddie goats!"
Ms. Santana particularly values the community at Peddie. She cherishes being "part of a supportive [and] productive department and school community that has become like family to me." She enjoys her time with faculty, staff and students, and she values her connections with the contractors who enable the school to thrive as an excellent place for education.
Ms. Santana's favorite thing about her job is that "every day is different in Building Services!" With all the hard work she puts into keeping Peddie's environment organized, she also enjoys working on this gorgeous campus.
Outside of work, Ms. Santana loves doing many things. One of her favorite things to do is go to the beach. According to Ms. Santana, "Happiness comes in waves!" She also enjoys riding her bike and gardening, and she recently started to cook up new things with her new air fryer. Ms. Santana loves animals, likes to watch the weather and do DIY arts and crafts.
Ms. Santana is very passionate about her role in Building Services. She deserves to be appreciated more for her work in making Peddie shine, as many students and applicants are attracted to Peddie through the beauty of its campus and student life. It is thanks to her, people can enjoy studying and hanging out in this beautiful environment.