Gloria: A Life with Peddie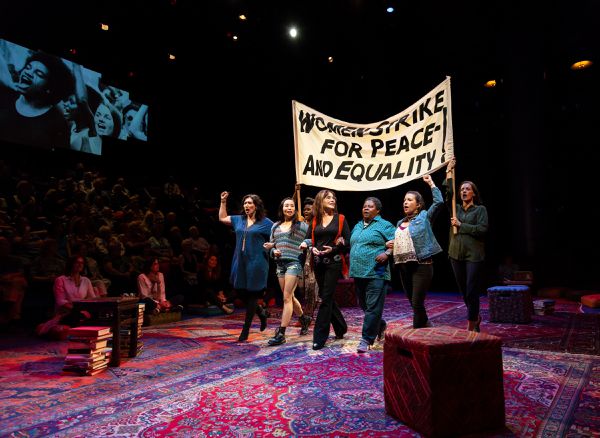 Peddie's Culture Bus took students to see Gloria: A Life at the McCarter Theater in Princeton on Sept. 27. This play, chosen by the Young Feminists Club, details the life of American feminist, journalist, and activist Gloria Steinem, a champion of second wave feminism. Gloria: A Life was brought to the stage by Tony Award-nominee,  artistic director, and resident playwright at McCarter, Emily Mann. It features an all-female ensemble portraying major figures in the life of Gloria Steinem; even male characters in the show are played by the seven other company members. Gloria was played by Mary McDonnell.
Act One highlights Gloria Steinem's philosophies, background, triumphs, and adversities. The audience learns about her work in journalism, her relationship with her mother, her rapport with her posse of feminists, her co-founding of feminist magazine Ms., and her role in prominent historical events. 
Gloria: A Life transcends just a biography of the feminist trailblazer, however; much of the play emphasizes the cohesion and intersectionality of the feminist movement. The '60s and '70s saw the civil rights movement, gay liberation movement, anti-war protests, and feminism breaking the suburbanism and conformity of the '50s. While race was a divisive issue within second wave feminism, intersectionality was also a unifying factor, allowing for the movement to become more widespread. "Everybody could find someone they could relate with. That diversity helps to touch the lives of everyone and empower a wide range of women," said Simi Filani '21. Feminism can transcend cultural lines, with women in various countries all fighting for the same rights. "There have been women who have been pushing for equality in terms of jobs and being paid the same. There is empowerment there," said Filani about her home country, Nigeria. 
Company members featured several frontrunners of second wave feminism who did not receive as much media attention. The show also highlights black and Native American feminist leaders like Florynce Kennedy, Wilma Mankiller, Angela Davis, and Coretta Scott King. "I think that the characterization of second wave feminism as a white women's movement is simplistic and not really true…. Black women linked the women's movements to other rights movements," said History teacher and faculty adviser of the Young Feminists Club Lynn Berrettoni. These women affected their respective communities in ways that mainstream media may find hard to fathom. "The multiple dimensions of their identities made them even better equipped to speak on behalf of all women, including women of color. "I think they're incredibly powerful voices. What makes me sad is that history has made their voices less heard than others," said Associate Director of Admission Hannah McCollum. For some Peddie students, acknowledgement of these figures was important and enlightening. "Some of these names I had never heard before. Real change doesn't come from improving the reality of just one group. Intersectionality in social justice movements helps usher in reforms for all traditionally sidelined groups. I really appreciate the broader view," said Jessica Cheng '20. 
Audience members are a part of an intimate experience from the moment they step foot into the theater. Rather than having the common proscenium stage, the theater features audience seating on two sides. The cast breaks the fourth wall, often speaking from the stairs of the auditorium, inviting audience members to sit on the edge of the stage, and even pulling audience members onstage to play some parts. A fifteen-minute Act Two further opens up Gloria to audience confessionals, remarks, and questions. "I thought the audience confessional was very powerful, especially when women could share their abortion stories and stand in solidarity with one another. Abortion is often very emotionally taxing, and it was an honor to hear their stories," said Cheng.
Overall, Peddie showgoers' reactions to the play were very positive. Berettoni summarized the message that many took from the show: "The second wave feminist movement is the foundation of the continued work that needs to be done."
The Culture Bus offers Peddie students the opportunity to see shows for little to no cost.